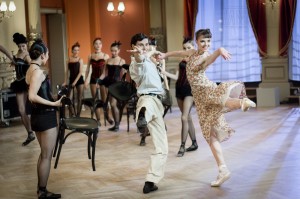 It's rare these days for me to be able to "show" you Julian dancing in Germany. However, recently he was chosen as the lead in a short, new piece to be aired on national German television. During the filming, some "unofficial" photos were taken that I was given permission to use.
I suppose I could say this was his first time on television, but actually last year he performed in the Holiday Ball, which was aired on Germany television as well. This role and this piece feature him, though, making it more of a debut, I'd say.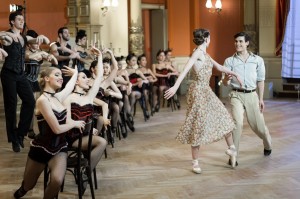 The piece, which is about three minutes long, was choreographed by principal dancer Raphaël Coumes-Marquet's, specifically for the New Year's Concert and filmed on November 19th, 2013, at the luxurious and impressive ballroom of Hotel Dormero in Dresden. Twenty of the SemperOper ballerinas and four of the male dancers were included in the choreography. Raphaël selected Julian and Gina Scott, a coryphée, as the leads. Rehearsals for the dancers started on October 28th, 2013.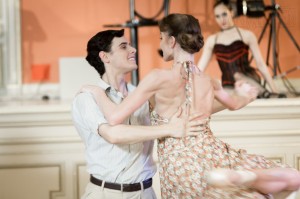 The piece is about a journalist. He enters a room, sees all the beautiful girls and falls in love with one of them. He dances with her, she kisses him and he falls off the stage, only to find himself seated in the same chair he sat in when  he first entered the room. Maybe it was all a dream?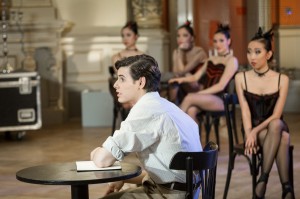 This piece will air on New Year's Eve as part of Silvesterconcert produced by ZDF, a German television station. You can get the link to watch there, hopefully—or I will post it once I have it. Typically, the SemperOper piece runs between 11:30 p.m. and midnight.
Enjoy the photos, which were all taken by SemperOper Ballett's official photographer, Ian Whalen, who is also a former member of the company. I hope you get to see the streaming video on December 31.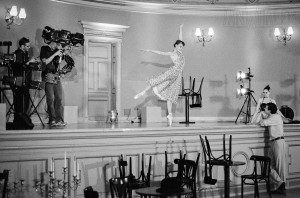 All photos courtesy of Ian Whalen.