It's difficult for most of us to talk about ourselves. Yet, sometimes it's necessary–like when we want to win a contest.
Some of us also find it difficult to ask for help–or for partners. But there are times when we just can't do the dance without someone there to do it with us.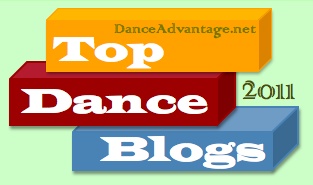 That's the case when it comes to winning the 2nd Annual DanceAdvantage.net Top Dance Blogs contest. (Yes, here we go again…just like last year.) For me to get on the list of the top 20 dance blogs (and to later make it to the list of top 20), I need some dance partners. Actually, I need a lot of dance partners.
How do you take my hand and lead me out onto the dance floor–to the top of the list (or at least into the first cut of 20 blogs)? If you enjoy this blog and find it offers value, please take the time to vote for it simply by leaving a comment on this post explaining why you read it, why you find it beneficial or enjoyable, what makes it special, which are your favorite posts, or even just nominating it. Yes, that's all it takes. Please leave just ONE comment (or I'll have to delete your second one).
Let me explain why I care about winning what some might think of as a stupid contest, why I care about making this list of dance blogs.  I care because winning extends the reach of my blog. Getting on the list gives My Son Can Dance more exposure, which means I can touch more readers–more parents of young boys wanting to become professional dancers or even just starting out on their dance journey and more young boys struggling on their path to become professional dancers. That's really important to me.
My mission here at My Son Can Dance is simple: By sharing my experience of raising a son with aspirations of becoming a professional male dancer, and by drawing on the experiences of professional male dancers and experts in the field of dance, I hope to help many parents help their boys reach that goal. I also help to help young male dancers as well. Here at My Son Can Dance I have a motto: From purpose, passion and perseverance, inspired professional dancers flow forth in abundance. Or so I hope…
So, do you want to dance with me? Do you want to show your support for this blog and for me and what I'm trying to do by writing it? If so, please help me win this contest by joining the dance. You need only know one "step": how to leave a comment on this post. By leaving a comment (remember…just one) you help me twirl my way to the top of the list.
Thank you so much (in advance) for your support.
I'll let you know if I make the first cut and, if so, what you need to do to help me make the second one! Last year you helped me land in 2nd place–and I'm still grateful for that!
LET THE VOTING–COMMENTING–BEGIN!!!!!!!!!!