Okay, I know I just told you this blog won an award for being a great dance blog. As Nichelle at Dance Advantage points out, however, all the lists of best dance blogs to date have been compiled by organizations outside the dance community. (This was the case with the award mentioned in my last post.) So, she decided it was time readers of dance blogs voted on their own list. (Great idea, Nichelle, and high time!)
She has grabbed the bull by the horns, as they say, and will vote on 10 blogs to decide on the top blog and blogs of 2010. Which blogs get put into the running will be determined by the number of comments on a blog post written about the contest and published in each dance blog. Here's what that means:
To get My Son Can Dance into the running, you must leave comments about why you think this blog should be voted the best dance blog of 2010 right here on this particular blog post. And you have to leave your comment by December 22. To even be in the running, this particular blog post that you are reading has to receive a lot of blog comments.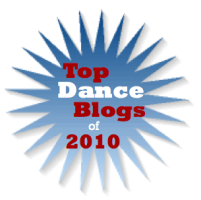 You can read all the contest details here.
I have always enjoyed writing this blog. It started out as my way of sharing my son's trials and tribulations as a dancer and the things my husband and I had learned about raising and supporting a young male dancer with dreams of one day becoming a professional dancer. It then turned into a more journalistic endeavor with me occasionally interviewing a dancer or dance teacher or inviting a guest blogger to add their expertise. I now have plans to expand the site with some special reports and other written products, including the long-awaited book about mentoring boys who want to become professional dancers.
Over the years so many parents and dancers have written in to tell me how much they love this blog. If you have found the information here useful, please take the time now to reiterate that sentiment. Leave a short note in the comment field so My Son Can Dance might be considered as on the Best Dance Blogs of 2010–or maybe even become THE Best Dance Blog of 2010.  Getting such an honor from the actual dance community would really be something amazing and meaningful.
Thanks in advance…for being loyal readers and supporters of my work. Your comments, emails and questions continue to make this blog worth writing.