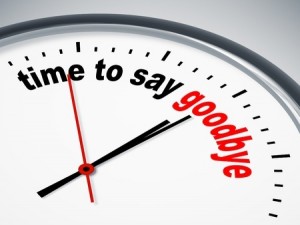 In every dancin' boy's life (and girl's life) there comes a point when it's time to say goodbye to the current studio. It's never easy, but the change must be made if your son is going to progress.
How do you know if that time has arrived? Here are a few signs to watch for.
Your son is in the top level, or the second-to-top level in any particular style. This indicates that pretty soon he will have no way to continue moving up. He's outgrown the studio.
The teachers don't correct him. If your son complains that he never receives corrections, or, when asked about this, the teachers say he is "doing so well" that they can find "little fault in his dance technique," it's time to start studio hunting. Good dance teachers—those with high levels of ability themselves—always can find something to correct. They always see large and small issues in technique that need fixing—or they will tell you it's time to find another teacher.
Your son feels bored or loses interest. If he still loves dance and says he is serious about it, this always indicates a problem.
The studio owner refuses to speak with you about other options for your son. When a studio owner is unwilling to even entertain the possibility that your son might benefit from a summer intensive, an outside class, a private lesson, or some other technique, that typically means they are invested in the money, the credit or something that has little to do with the best interest of your son and his dance development. Time to find a new dance home.
Your intuition says he's just not getting what he needs. You'd be amazed at how smart you are about the dance needs of your son—even if you know nothing about dance. Follow your gut.
Your son says he thinks maybe he needs a different class, a new teacher, an additional lesson, some extra instruction, etc. Dancin' boys tend to know what is in their best interest. They just don't always want to come out and say it, because they don't want to hurt their teachers' feelings or leave their friends behind. So they might ask in a round-about manner. Keep your ears open…
Your son says he thinks he might need a different studio. This is a no brainer.
You take him to a dance professional, a convention or a summer intensive and objective experts tell you he needs some different training. Listen. Take this to heart, especially if they don't just want to take your money. If they do, seek out someone more objective from whom to get advice.
When asked, your son admits he thinks it's time to change studios. Your son is full of wisdom. Again, he may not want to leave his current studio, but when asked about it, he will probably be able to tell you if he thinks it's a good idea.
The teachers don't treat him or you well. Again, this is a no brainer. If you feel those in charge don't give you and your son the respect you deserve, the are hard to approach or to get answers from, aren't giving him confidence, boosting his sense of self-worth and helping him develop stage presence, it's time to get out of there…fast. The studio should be a positive experience. No crying in hallways (or not often), no feeling like he is not good enough (on a regular basis), no being told he is stupid, lacking in talent, an oaf, or anything like that, and you should feel you have someone to help you as you support him.
Last, and I make this point separately to stress it, if the studio does not help your son dance like a man and treat him like a boy, not like one of the girls, take him out of class. Boys should not be dressed in pink tights and leotards. They should not be given girly costumes on competition teams (or forced to wear makeup if they hate it), and they should not be told to dance in the same way a girl dances. The female ballet, jazz and tap teachers should know how to help the boys dance like boys. If they don't know how to do this, find a studio that has teachers that do, or find one with male teachers.  At a minimum, take your son out of those classes and find a private instructor who can do this for your dancin' boy.
Have something to add? Leave your suggestion below in a comment.
Copyright: markusgann / 123RF Stock Photo