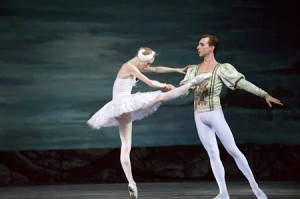 I can't recall how often I've been asked by a young male dancer how he could overcome the fear and awkwardness of showing up in class or on stage in tights and a dance belt, but it's been more than just a few times. My response is pretty much always the same. So, I thought I would publish my last emailed answer to a dancin' boy who said he didn't mind wearing this apparel to private dance lessons but would not dare do so in group classes.
I know there are other dancin' boys out there who feel exactly the same way…or who refuse to even put on tights or a dance belt. I hope they might benefit from this advice as well (and I hope the other young dancer won't mind that I shared this response here).
When you begin dancing very young, as Julian did, dance belts and tights are just a fact of life. I bet Julian was six or seven when he first wore a dance belt. I know he was wearing tights at age three or four when he began dancing. He was the only boy in class, though. He didn't know any better and never thought to be embarrassed at that age. Later, he had some trepidation about such things as white tights, which were all the more revealing, but he got over it. It was just part of being a dancer.

If you come to dance when you are older, it's a bit more difficult, I suppose, to get comfortable with tights and dance belts. But here's what I'd tell you:

You have to realize that this is the dress code, the uniform, for ballet. For this reason, no one will judge you in class. They expect you to wear these things.

Sure, the girls will check you out initially. After that, they will not pay any attention.

If you can get away with wearing your white shirt (if that is required) out of your tights initially, do that to cover up a bit. Gradually ease into tucking your shirt in.

Also, try going to a class with other boys so you aren't the only one. This will give you some confidence. There' security in numbers.

Remember this: Your body is not only your tool, it's also a work of art. A male dancer should consider his body in the same way that a weight lifter does–something to show off!  People love looking at a male dancer…every muscle rippling. And your lower body is part of that artistic creation.

Also, keep in mind that you are not the only one in the room revealing your body via your clothing. All the female dancers in the room are showing just about everything in their thin, skimpy little leotards, too. You can't tell me that you can't see everything they have going on under there… So, what's the difference?
Now, go out there and dance with confidence and stop worrying about your tights, dance belt, or what you are revealing. Just focus on showing your talent!