Partnering. It's a huge part of a male dancer's job. For some, partnering feels difficult and they hate it. For others, it's comes naturally, and they love it. No matter where you or your son fall on this spectrum, it's necessary to become a good partner to succeed in a dance career.
Male dancers who have poor partnering skills find it difficult to move up in the ranks of a ballet, modern, or contemporary company. And none of the female dancers, especially ballerinas, want to be paired with a dancer with weak partnering skills.
Male dance teachers offer sound advice on this skill, and they provide necessary instruction. However, when it comes down to the wire, it's the ballerinas and other female dancers who know best what constitutes a good partner. When advice is heard from the female dancer, the male dancer can help demonstrate how to accomplish what the female dancer wants and needs to perform her best and feel safe and comfortable.
What does a female dancer consider a good male partner? I asked Sarah Hay, Dresden SemperOper Ballett second soloist and star of the Starz limited series Flesh and Bone, to answer this question.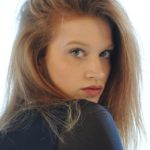 Sarah began attending dancing classes at the age of three, and joined the School of American Ballet in New York City when she was eight, and later attended the Jacqueline Kennedy Onassis School of Ballet at the American Ballet Theatre. She joined SemperOper Ballett in 2010 and, during her time with the company, performed a variety of classical and contemporary roles in such pieces as The Nutcracker, La Bayadere, Sleeping Beauty, Cinderella, Cacti, In the Middle Somewhat Elevated, and Copellia, to name just a few.
As an actress, Sarah made her television debut in 1997 as Stephanie in You're Invited to Mary-Kate & Ashley's Ballet Party. In 2016, she was cast as Claire Robbins in the Starz mini-series Flesh and Bone. For that role, she earned nominations for a Golden Globe and a Critics' Choice Television Award and won a  Satellite Award.
Sarah made her film debut in 2010 as a dancer in Black Swan.
Sarah danced the part of Manon when Julian danced Des Grieux in Kenneth MacMillan's Manon in the fall of 2015. (You can find several posts about this performance, including Julian's perspective, here, here and here on the blog.)
I think Sarah's perspective on partnering will prove informative and instructional on you or your son's journey to become a sought-after partner.
What characteristics does a male ballet dancer need to be considered a good partner?
They need to be confident, not tentative, and open minded, as well as physically strong and grounded.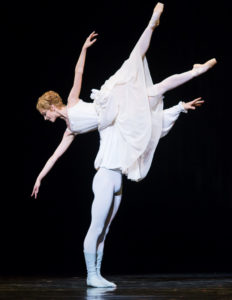 How important is trust when it comes to partnering?
For me, trust is everything. When I feel I'm in the hands of someone who is really there to protect me and is focused, I can really be free. Being able to let go and just dance is the goal.
What can a male dancer do to earn his partner's trust?
He needs to stay focused.

He needs to pay attention. There is almost an unspoken language you have to know when partnering.

He needs to watch his partner. In fact, both dancers need to watch each other.

Also he should be slightly ahead of the woman so she can be right on the music.
What are the most common things that can go wrong when partnering and how can your partner prepare for them?
A common one for me is not having enough space. As much as my partner is "holding me up," I also need the room to move. So it's more like propping me up. The use of space can change the entire center of balance.

Getting frustrated with your partner also plays a role. Everyone has problems. It's good to remember that you both have to do this together, and it's not about one person or the other being right.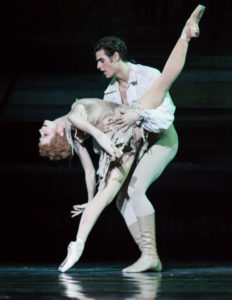 What was your favorite partnering experience and why?
I loved dancing with Julian Lacey in Manon by Kenneth McMillan. We have a very special relationship when it comes to dancing—similar musicality and coordination. During our process we both learned so much about partnering and each other. And moments of "I can't do it" turned into "We did it!", which can be so satisfying.

I also love dancing with Istvan Simon, because he has such a magnetic strength. I never worry that I will be dropped or lost. He takes risks, but I trust them.
What was your hardest partnering experience and why? How did your partner help?
During Manon, we had to learn many new trick lifts and off-balance classical steps. This was hard for me, because most of my pas de Deux training is in The Forsythe technique.

Julian and I had an issue with an arabesque promenade off balance. He helped me through it, and, eventually, we were able to get it in a secure place. But, he definitely had to be patient.

Fear can be poison for partnering! I was very frustrated with myself, but we found a way. Compromise is key.
Each ballerina likes to be partnered differently. How can a male dancer know what each partner needs or wants? How important is communication between partners?
Communication is everything! No one can read your mind, so be forward. Ask questions! You want help whether you feel like you need it or not because, in the end, you want to give the best performance possible.
Can you offer a few tips or bits of advice for young male dancers who aspire to be pro dancers and great partners?
Listen to everything.
Always know the woman's steps so you can help when necessary.
Don't take criticism seriously; just take it as advice.
Put yourself in her position. Always try to understand why you're doing this and what you want to say with your movement.
Male or female dancers: Do you have anything else to add to Sarah's advice? If so, leave a comment below.