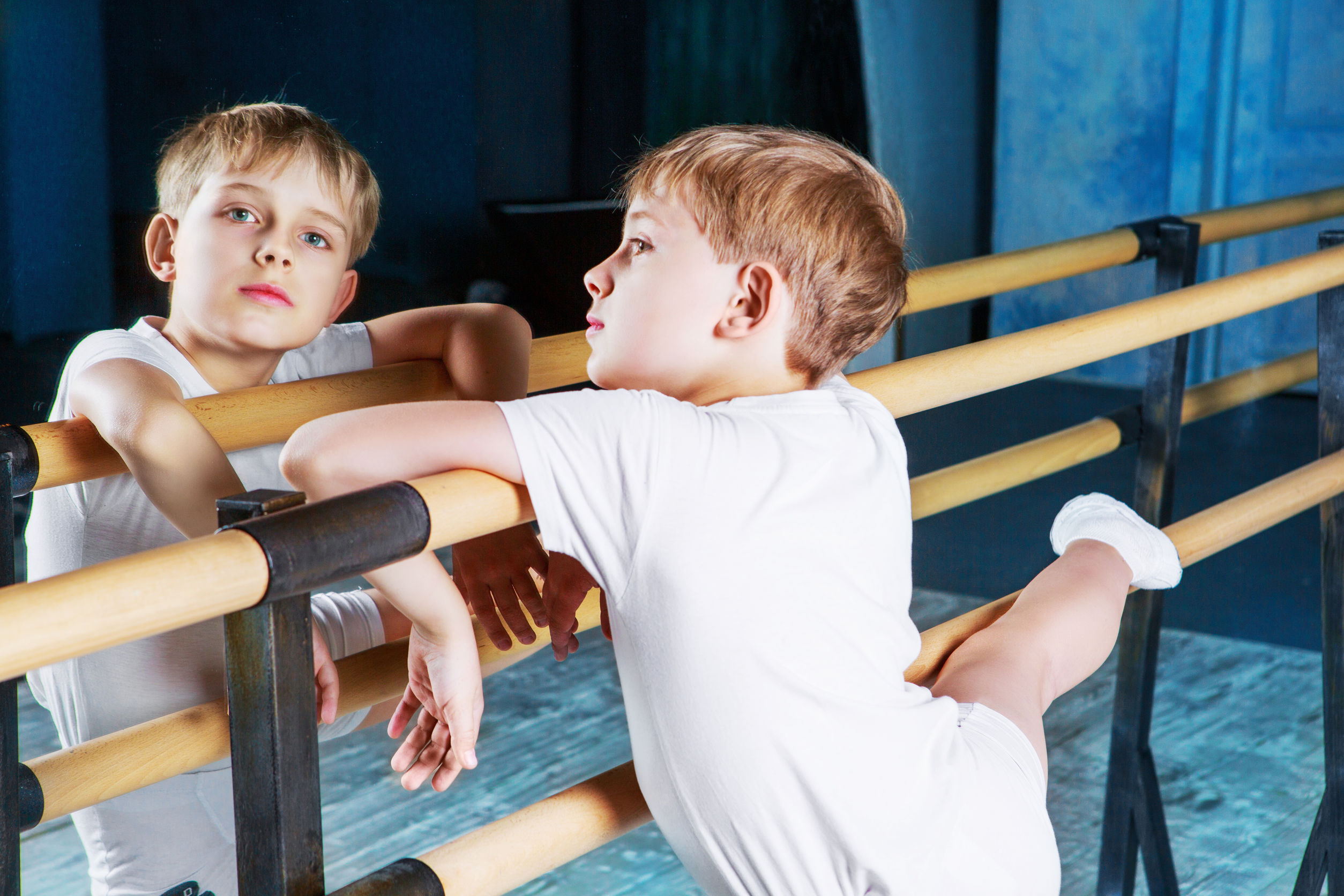 Two weeks ago, I was reminded why I began this blog in April 2018. I saw how difficult it was for my (then) 13-year-old-son to pursue dancing. I'm not talking about physical challenges, though. I'm talking about the emotional and psychological ones.
Julian started at the age of three. By the time he hit first grade, he was laughed at for sharing during "show and tell" that he was a dancer.
The entire class laughed at him when he told them he took dance lessons. Every single student.
That's the same thing that happened on Good Morning America when, on August 22, 2019, co-host Lara Spencer mentioned that Britain's little Prince George was taking ballet this year. What she found even more humorous was that he liked ballet. And the entire live audience—and her co-host—laughed with her.
That's bullying. Plain and simple. And those people—all of them—behaved no better than the class of first graders who laughed at my son.
(If you missed this Good Morning America segment, you can view it here.)
I could argue that such behavior and attitude comes from ignorance. However, in many cases, young male dancers experience it from people who are simply mean, judgmental, and small-minded.
Apology Accepted?
Spencer tried lamely to apologize on Instagram the next day. She then did a segment on male dancers and apologized again. While she sounded sincere the second time around, the segment became more promotional for the dancers than anything else. And if fell drastically short of shedding light on how hard it is for young (and sometimes older) male dancers to pursue a career in this artistic and athletic discipline.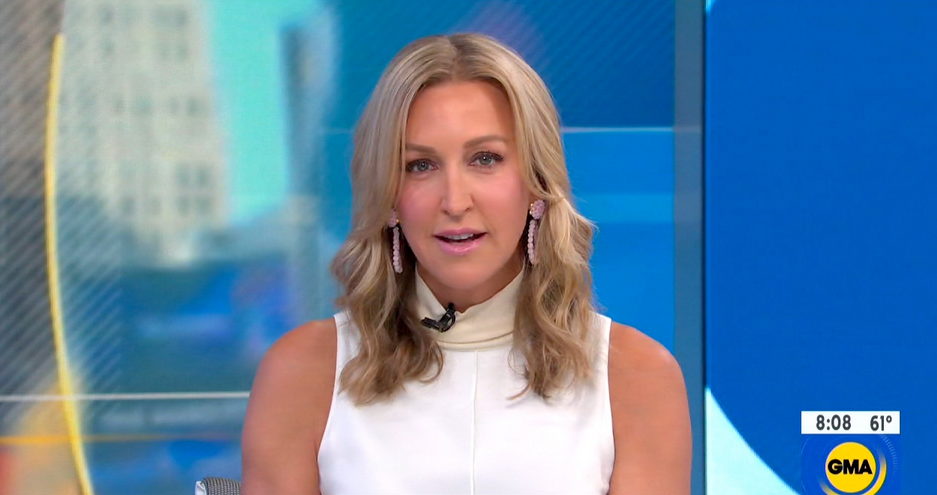 Plus, while the segment was being shot, Good Morning America closed the curtains out to Times Square, where bystanders can usually watch the hosts record. Co-host George Stephanopoulos—who also laughed at Spencer's comments during the first segment (and never apologized)—only mentioned in passing the fact that 300 or more dancers had gathered outside—mostly boys and men—to take a ballet class. While this was called a "protest" by some, it primarily was meant to educate the hosts. (To see the videos of this dance event, go to the Boysdancetoo Facebook page.)
I'm sorry. I can't take Spencer's apology too seriously when she never even mentioned or showed what was happening right outside Good Morning America's window.
But other people noticed and mentioned this demonstration. For example, Netflix social media manager Jarett Weiselman, tweeted, "In response to Lara Spencer's harmful mocking of young boys (in this case, Prince George) who enjoy taking ballet classes, a group of professional male dancers led a class for boys and girls outside the Good Morning America studio this morning—a lovely sight to wake up to."
A Rally of Support
The dance class in Times Square was only one demonstration of support not only for Prince George but for dancin' boys everywhere. The dance community rallied in a variety of ways.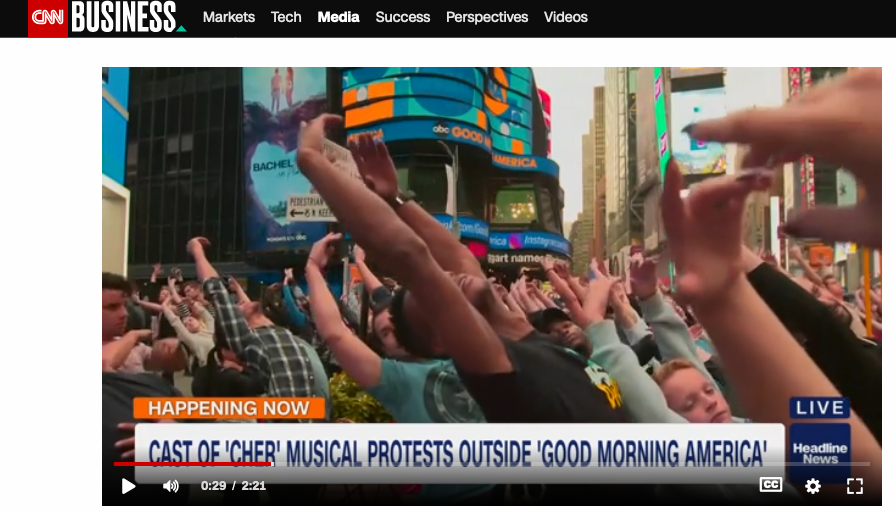 Celebrities spoke out. And the segment was covered by many news outlets, including the New York Times, which also covered the ballet class outside the Good Morning America studio. But many say not enough was done by the media, and the dance community still needs to make more effort to educate the general public about the trials and tribulations of being a young male dancer and the effort and commitment necessary to go pro.
And so…I'm back.
I have let this blog sit dormant for too long as I pursued other things. And it felt hard to continue blogging here ever since Julian became a professional. When he moved to Germany to begin his career, I was no longer privy to his daily life as a dancer. Nor could I freely write about him. I tried for a while to keep posting…and then quit.
Really, those are just excuses.
I'm sorry.
I didn't mean to abandon the many dancers and parents who have left me comments here—asking for help and support.
And I didn't mean to stop supporting dancin' boys and their parents. I know how much they need support—especially the boys.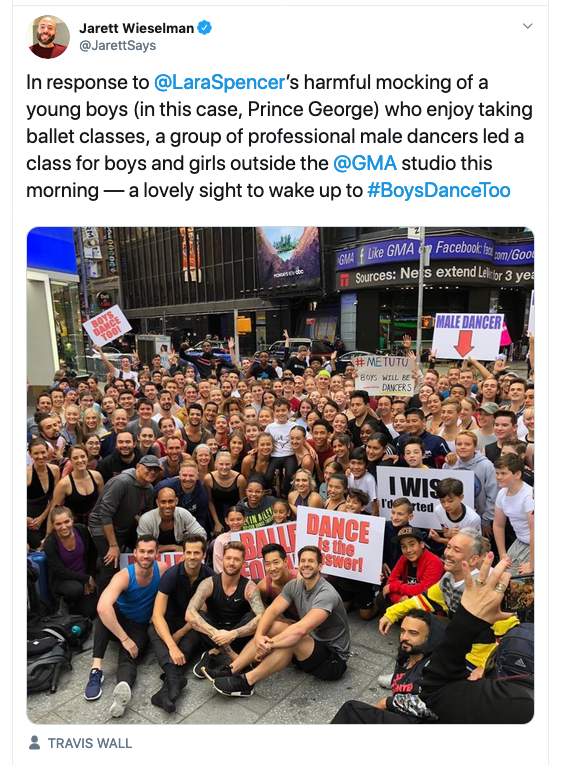 So, to join the cause—support boys who dance—I will be publishing posts on this blog again. I may not post as often as I once did nor will the posts be as long as this one. But I will use this blog to further my initial efforts to support dancin' boys (and their parents) on their way to becoming the elite and world-class athletes they dream of becoming—professional male dancers.
As an aside, an offshoot of this blog has thrived while the blog lay quiet—the Facebook group. Created as a forum for discussing the issues related to dancin' boys, in the past few years, the My Son Can Dance Facebook group(s) have flourished. The members—not me—have created an engaged community made up primarily of parents of male dancers with a few male dancers as well.
We have five Facebook groups total—the main group (parents and pro boys), a pre-pro group (parents), a pro group (parents), a boys-only group (boys), and a dance-teachers-dancing-sons group (parents). If you are a parent interested in joining one of them, please first ask to join the main group. If you are a young male dancer, ask to join the Dancers Only group specifically.
The Bottom Line
Back to the reason for this post…
If you think the story ended with Spencer's apology, think again. Fox News commentators Raymond Arroyo and Laura Ingraham got in on the story with a repulsive segment that went beyond bullying to harassment and racism. You can watch the clip here on Instagram, or you can read the transcript here in an article written by Dance Magazine.
This just made it all the more clear that more education about dance in general and male dancers specifically is necessary. Not only that, young male dancers need our support more than ever.
Here's the bottom line: Too many people still think dance is for girls, not boys, and that any boy who dances has been forced to dance or has gender issues. Basically, dancin' boys are sissies.
That's so far from the truth.
For the Love of Dance
Most boys dance because they love it. They may know they want to be dancers from a young age, like my son, or they may begin dancing in middle or high school. But they don't do it under duress. The only thing pushing them toward their activity is their soul's desire to express in this manner.
Even little Prince George dances because he enjoys it.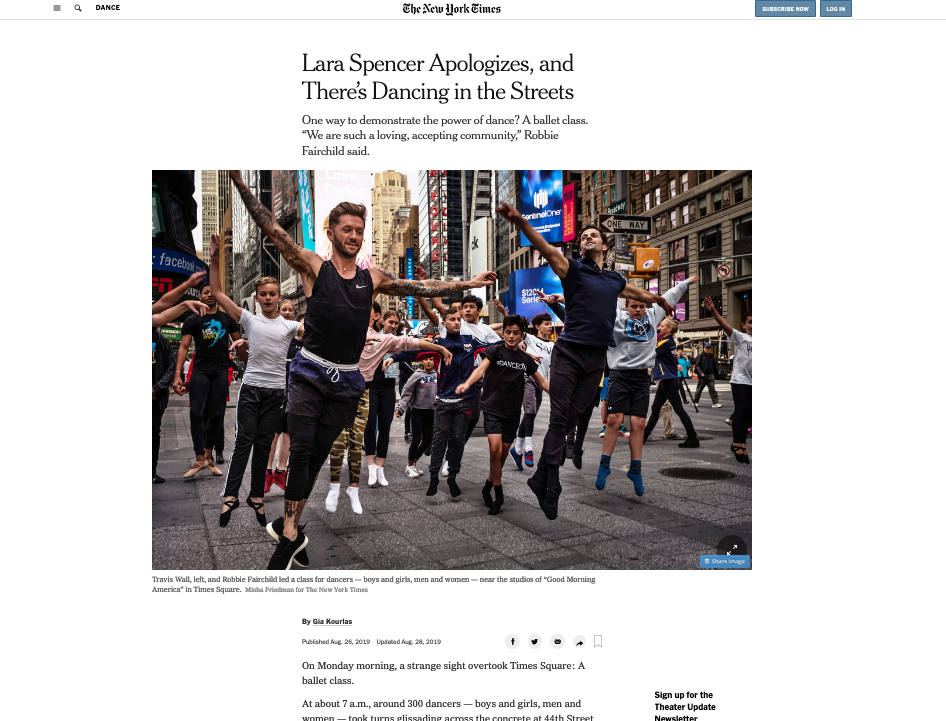 And dance is hard no matter who takes it up—boy or girl, man or woman. It's one of the most difficult "sports" and art forms. It's not for sissies of any type…or for the faint of heart.
Every day, dancers push themselves to new physical, emotional, and artistic limits. This isn't easy.
To hear a little bit about this, watch this video of my son and other dancers talking about working with choreographer David Dawson last year on a new creation called "The Four Seasons." And watch the dancers…what they do is enormously difficult and takes strength, flexibility, musicality, emotional depth, acting ability, and courage—lots of courage.
The hardest part of being a male dancer, however, is the social stigma, especially here in the United States. And that stigma leads to bullying, ostracizing, harassment, and more.
Because of that, fewer boys decide to dance. That's the thing about those news segments; they discouraged boys who have thought of dancing from starting and boys who have already begun from continuing with this endeavor.
Dance is not for sissies—no matter the sex of the dancer. And the boys who dance are definitely not sissies. The ones who continue to become professionals or to dance in college are amazingly strong emotionally and physically and incredibly committed.
They endure so much to get there… They must have courage, determination, tenacity, and such a love and passion for what they do that nothing will stop them—not even the worst bully.
Dance Benefits Others
Plus, the benefits of dance yields are many. Of course, dancers enjoy the health benefits but also the joy of performing, the fulfillment of giving an audience pleasure, and the continual striving for the next level of craft, artistry, and ability.
Not only dancers enjoy the benefits of dance, though. For many years, football players have taken ballet classes to enhance their performance on the field. Nowadays, rugby players do the same as do other athletes. And they are surprised when they discover the level of difficulty involved in dance movement.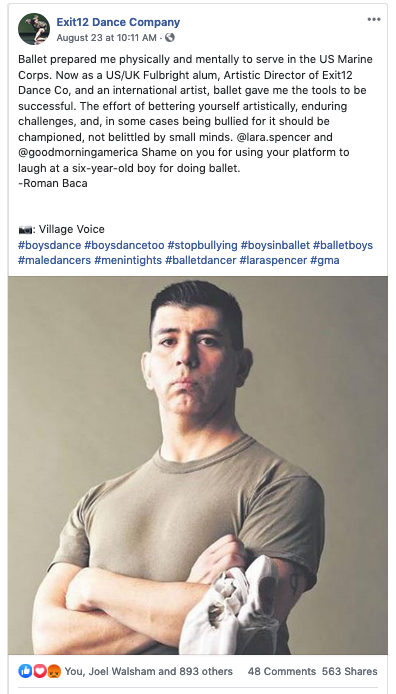 All sorts of men find ballet useful. According to Roman Baca's Instagram post, "Ballet prepared me physically and mentally to serve in the US Marine Corps. Now as a US/UK Fulbright alum, Artistic Director of Exit12 Dance Co., and an international artist, ballet gave me the tools to be successful."
And what would most ballets, musicals, or even music videos be without men? Ballerinas rely on the male dancers to make them look beautiful. The men become their barre during a performance. Plus, the men have to lift them.
But when the men get to dance…wow! That's when you see some fantastic athleticism and artistry.
And look at their bodies… Works of art! If you want muscles, try dancing daily and lifting girls instead of weights.
In dance studios, artistic directors are thrilled to have even one boy to on stage, and he becomes the biggest attraction. The men, as I've often said, are the black pearls. Open the shell, find one, and let it show itself to the world. WOW!
And the benefits to the audience… Don't forget the thrill of watching male dancers on stage.
Male Dancers Suffer
Yet, male dancers continue to suffer such snide remarks as those made by Spencer, Arroyo, and Ingraham. And, as a result of other people's judgment and cruelty, they end up depressed, full of self-doubt and self-loathing, lonely, and, all too often, suicidal.
That's why so many boys don't even bother to start dancing, let alone pursue it to the professional level. It's hard…damn hard. And the sore muscles and difficult moves are nothing compared to the emotional distress they often feel.
That's what made Spencer's comments and the ensuing laughter—and Arroyo and Ingraham's segment—so wrong. It not only perpetuated the harmful stereotype related to male dancers, but it also made it worse. And it discouraged boys from starting or continuing to dance.
Even worse, these segments told people it was okay to belittle, harass, and bully boys who dance.
Kudos to the Dance Community
The way the dance community rallied around little Prince George and all boys like him who dance was truly amazing. Instagram lit up with all type of dancers, artistic directors, dance magazines, and celebrities condemning Spencer and Good Morning America. We heard from Debbie Allen, Gene Kelley's wife, Rosie O'Donnell, and George Takei, just to mention a few.
All that said, we need to continue to rally around our young dancin' boys. We need to encourage them. We need to provide them with role models and strategies and tools to help them overcome the physical hardships they face and the emotional, psychological, and societal ones as well.
And that's what I plan to do.
I couldn't be prouder of my son, Julian. He is now a first soloist at SemperOper Ballett dancing many principal roles and working with some of the industry's best choreographers. And I know the challenges he has faced and continues to face.
But he followed his dream. And I want other dancin' boys to do the same…to follow their dreams and realize them.
Let's not let anyone stop them from doing so.
If you are a parent of a dancin' boy, how do you support him on his dance journey? If you are a dance teacher, what can you do to support young male dancers? And if you are a dancer, what support do you need to help you realize your dream? Tell me in a comment below.
And if you liked this post, please share it with those who will find it useful.
Top photo Copyright : lanak