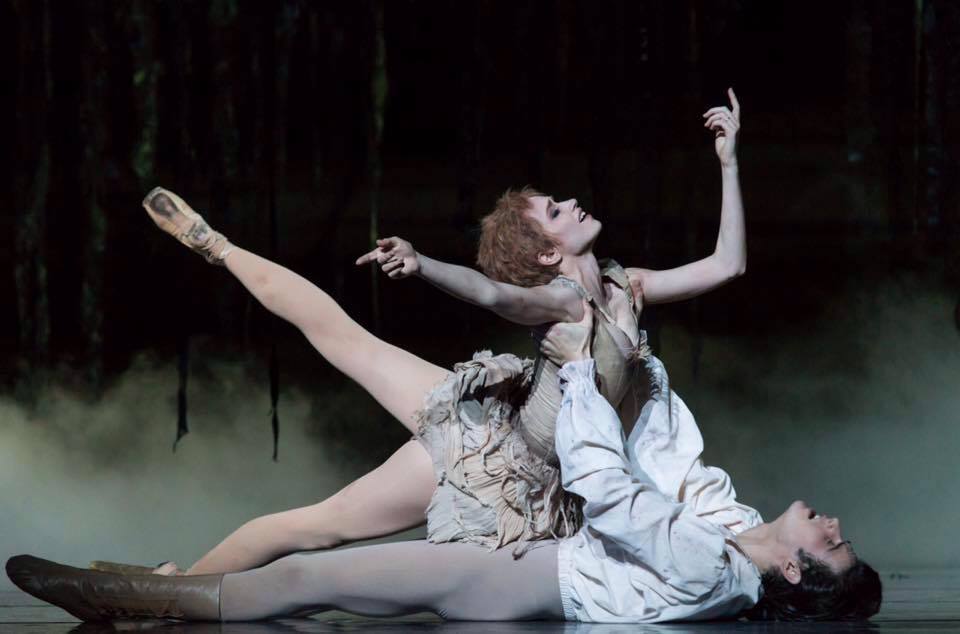 This past November 2015, my son, Julian Amir Lacey, premiered in the lead role of the three-part ballet, Manon, produced by SemperOper Ballett in Dresden, Germany. This famous ballet was choreographed by Kenneth MacMillan, and the MacMillan Foundation chose Julian to perform the principle part in two of six performances.
Julian danced the role of Des Grieux, and partnered Sarah Hay, who played Manon. Hay recently starred in the Starz limited-series Flesh and Bone, was nominated for a Golden Globe and won a Satellite Award for Best Actress – Miniseries or Television Film.
Manon was Julian's largest and hardest role to date. However, it was not just technically difficult but artistically and dramatically challenging as well. Many male dancers wait their whole career to perform this particular role, and he did it to rave reviews at the age of 21.
I asked Julian to share what dancing this role was like for him. I hope parents and aspiring young male dancers will find his experience useful.
How did you feel and what did you think or feel when the MacMillan Foundation selected you to dance the role of Des Grieux?

When I first learned that I had been selected to learn the role of Des Grieux, I was honored and terrified. I had not seen the ballet before, but I knew its reputation for being one of the hardest male parts out there. Since I hadn't even danced a three-act ballet before, I was already extremely nervous just 10 seconds after reading my name on the cast list. Besides being scared, though, I was so extremely excited to get such an amazing opportunity.
Why is the role of Des Grieux difficult—not just technically but emotionally and dramatically  or artistically?
This role is difficult for many reasons. The first reason involves the amount of dancing and partnering you do. As the male, you have a total of two variations, both of which are technically and artistically extremely challenging. On top of that, you dance four pas de deux. The variations are adagio, which challenges a dancer like me, who is on the less-flexible end of the spectrum. Also, a ballet like this forces the principles to look at every second and every angle in the choreography, and that is extremely challenging both mentally and physically.
Pas de deux is a huge part of this ballet, and Macmillan did not take it easy on the partnering in this ballet. It's all very intricate and precise yet with many very large lifts. So the male principle needs both strength and artistry to make it through these pas de deux.
Besides the technical and physical challenges, the emotional side of this ballet was one of the greatest challenges I encountered. Portraying a story like this seems extremely difficult, but during my first run-through of the ballet I found myself and my emotions exactly where they were supposed to be. The ballet and the story leads you the whole time. Besides, by the end, acting exhausted, half-dead and upset is quite easy!
Did you struggle with self doubt at any point, and how did you overcome it?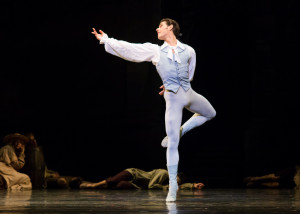 Yes I struggled immensely with self doubt. You can ask my girlfriend, to whom I came home crying almost every day for two weeks! But it comes with the territory!
For me, overcoming self-doubt was just realizing that, even if the shows won't be perfect, I can make it through the ballet. That gave me my first bit of confidence. Before that I was a wreck!
You just have to keep pushing and not let your own head get in your way. Trust your ballet masters, and listen to them and your friends over yourself. When you feel like you can't do it, it's hard to get yourself out of the way. You need to rely on the people you trust at that point.
What did it feel like to perform in your first three-part ballet?
The feeling of dancing this ballet was incredible. I've never felt so amazing, humble and peaceful after dancing. It's truly an awe inspiring moment when you are done and you hear the applause and your partner and you are just standing there…That's really what it's all about for me.
Do you have any tips for boys who have to get through similar stressful situations when they find themselves in a difficult role?

Three pieces of advice I would give is keep your head down, don't give up and be patient. In terms of keeping your head down: If you are a young man learning a role like this, most likely there will be older and much-more-experienced people in the room with you. Give them the space and the center and whatever they want and they have earned . (You've earned it, too, but it's not your turn in the front yet). I am not one to takes to the front usually, but I wanted all the attention I could get for this role. So I had to pay attention when I asked questions and where I was in the room in order to not offend or upset the others around me.
Not giving up is pretty obvious, but it's a hard one. But don't give up!
Be patient…meaning with yourself. If you can't do it how or as well as they want it this second, there is not too much you can do. Keep trying, but go in the studio by yourself and find your feeling for the step that challenge you. It's your body, so sometimes it's good to experiment by yourself.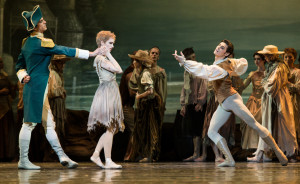 What did you learn from the experience that you can use going forward—or that others can learn from as well?

I think my greatest lesson from this experience would be maturity. I feel I grew in many ways from doing Manon—not just technically but emotionally as well. I did not feel as scared to show myself in front of the company and now feel more comfortable being me at work. On top of that, I feel that my maturity in the studio grew immensely. I really learned how to work with people and how to interact with people in a positive manner. Not that I couldn't work with people before, just developed a different understanding of what it means to work artistically with others. That was my biggest lesson—learning how to be calm and concentrated at work.
Currently, Julian holds the position of corphyee, or demi-soloist, at SemperOper Ballet. He began dancing for the company as an apprentice, was promoted to the corps de ballet after one year, and was promoted again just two years later to corphyee.
He has danced the principle role of the Nutcracker Prince for the last two years and performed a variety of soloist parts in other pieces as well. For instance, he danced the Golden Idol in La Bayadere at the beginning of March 2016. Additionally, he has performed with SemperOper Ballett on tour in several European countries and at a number of European galas.
To read my reaction to seeing Julian dance Manon, click here. Watch for one more post on Julian's performance in Manon, this time from SemperOper Ballett Artistic Director Aaron Watkin.