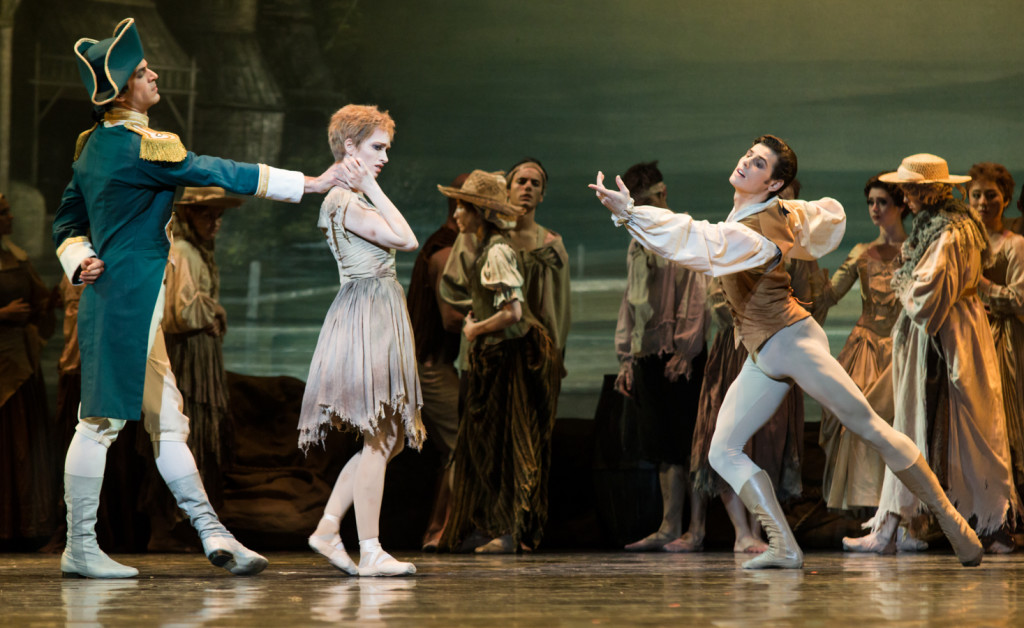 You may think your son's career begins when he takes the stage for his first recital, wins a competition, or gets asked to be on a dance team. Or you might mark the big day at the point he signs a contract with a dance company the first time he takes the stage as a professional dancer, or when he has his debut as a principal dancer.
I marked all these special moments, too. However, what I realized recently is that your son's dance career begins the night he appears on stage in his first major role.
Nutcracker Prince
I thought Julian's career had truly taken off last winter when he had the opportunity to perform the role of the Nutcracker Prince in SemperOper Ballett's "Nutcracker" in Dresden, Germany. Just a corps de ballet member, this principal part was a huge step forward toward his goal of becoming a principal dancer, and it was his debut as a principal dancer.
However, as SemperOper Ballett artistic director, Aaron Watkins pointed out, the role of Nutcracker Prince is a role "made for a young naïve, beautiful talent that's up and coming. The technical and artistic demands of the role are not easy, but they're simpler."
Simpler, for instance than those required for the lead role in Kenneth MacMillan's "Manon."
In retrospect, I realize dancing the Nutcracker Prince was just one step toward the real beginning of Julian's career. He'd danced soloist parts before this role in Nutcracker—all of these were beginnings. Then the MacMillan Foundation chose him to perform the lead role in Manon.
The Lead Role in a Three-Part Ballet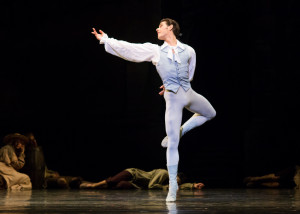 When Julian took the stage as Des Grieux in the three-part ballet Manon, I knew his career had truly begun. Now a corphyee, or demi-soloist, this was the biggest and hardest role he'd danced to date but not just technically. The ballet masters and mistresses and the artistic director were waiting to see what he would or could do with this role. They were less concerned about his technical ability than his artistic and dramatic ability.  Could he perform, with all that word means?
At the top levels, a dancer must bring much more to the stage than his technical skill. The principal dancers carry the movement of the story with their personal interpretation of the choreography and the emotions they bring to the stage. They must be actors as well as dancers.
MacMillan choreographed Manon with emotion in mind. Each movement is meant to elicit a feeling. The dancers must be able to bring that emotion to the movements.
The movement also is all Adagio. It highlights the dancer's lines. There are no big jumps like the male dancers normally get to show off in a full-length ballet.
Watkins explained that after Julian joined the company, "Immediately we had him in some contemporary pieces, and we realized right away he was really good at that. And his basic classical technique is natural and strong. He can turn; he can jump. All those things that are important for a man, he has those. We've been working on refinement—getting his lines longer, working a bit more on his flexibility and angles…getting him more elegant, working on his port de bras, his arms.
"It's just amazing to me when you think that Manon, or Des Grieux, is all about lines, elegance and port de bras—all the things that Julian has been working on," said Watkins. "If you ask him, he doesn't feel as natural in these, especially with Adagio. Yet, it's what people from outside the company (the MacMillan Foundation) picked him to do for the first time. Obviously, they didn't see that as a problem at all."
Watkins concluded, "We take time here to invest in our dancers, and it's wonderful to see them grow and develop in such a positive way and actually quite fast." This is Julian's fourth year with SemperOper Ballett. His first was as an apprentice, and he spent two years in the corps.
His growth has not just been in the technical or artistic arena, claims Watkins. "I always, say, 'If you want to be a principal, stop talking about it and start being it."' Because when you start to be it, everyone will feel you and that moment will happen. Everyone has seen Julian do it. There's no question. He walked the walk; he didn't just talk the talk," he said.
Becoming a Principal Dancer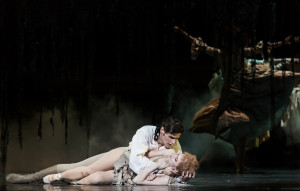 The process of learning his principal role in Manon represents the true start of Julian's career for many other reasons. Yes, it gave those he works with the confidence that he can perform on and at all levels. But it also gave him confidence in himself.
He was honored and pleased to have the MacMillan Foundation choose him for the role of De Greaux. He wasn't always certain he had the ability to do it, but he gained the confidence through the rehearsal process and performed like a pro. That said, what made his performance special was the fact that he brought a freshness, or rawness, to the part you might not see in someone with many years of experience under his belt.
The role also helped Julian gain clarity. He loved the fact that he could put feeling and meaning into his movements in Manon. And now he knows he wants to dance more ballets that allow him to do the same.
The Dream Role
Many men wait their whole careers to dance a role like the lead in Manon. In fact, SemperOper's principal dancer Jirí Bubenícek chose the role of Des Grieux in Manon as the one he wanted to dance for his final performance when he decided to retire. (He danced this role the first two nights of the Manon premier.) Other male dancers who have already retired have said they regretted never having the chance to dance that particular role. Julian had the good fortune to dance it at the age of 21—at the beginning of his career.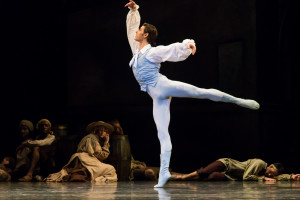 From the moment he first began to dance to the moment he and his partner, second soloist Sarah Hay, took their bows, I could sense this was the launch of my son's career. (Hay was just featured on the cover of Pointe magazine, featured in The New York Post and plays the lead role in the Starz mini-series "Flesh and Bone," for which she was nominated for Satellite award for Best Actress in a Mini Series.)  And it was the culmination of all the years of hard work, money, and time spent preparing him for this night.
I know many of you have said Julian's story inspires you and your dancers. I was surprised to discover that when Julian took on the principal role in Manon he inspired his fellow dancers as well. I was told that the young SemperOper Ballett company members watched as he struggled—mostly with his own self-doubt. "If he doesn't think he can do it, can he?" they wondered. And when he did, they felt proud of and happy for him. Not only that, they acknowledged that if he could do it, so could they—when their turned arrived.
I continue to hope Julian's story does indeed inspire all of you—dancin' boys and parents of dancin' boys. If you are a parent, know that it is, indeed, possible for your son to make his dream a reality. And it's your support that makes that possible. Your son could be the next inspirational story! If you are a dancin' boy, know that it's your commitment to your dream that will allow you one day to make it come true.
Photos courtesy of Ian Whalen Photography.