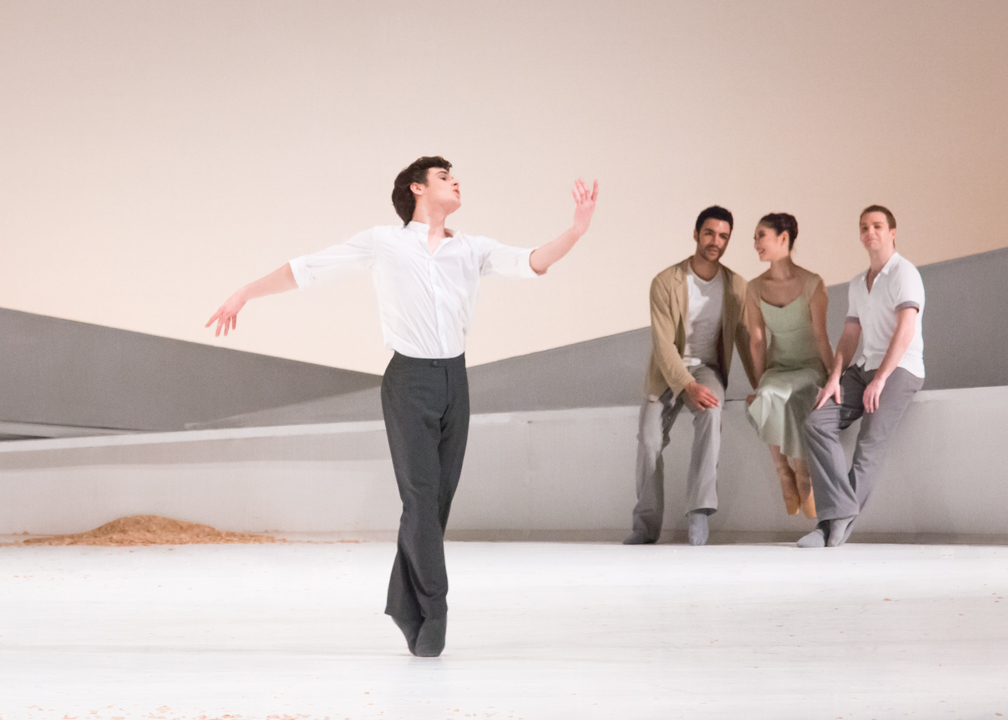 I am sorry I can't travel to Germany more often. I would have liked to see Julian's recent performance in Giselle and his upcoming one in Impressing the Czar.
Semperoper Ballet recently ended a run of David Dawson's Giselle. Although Julian was not originally scheduled to dance the part of the "Groom," an opportunity arose for him to do so.
He appeared in three performances and was excited to perform the pas de cinq. He told me the groom's solo was one of the most challenge he had been asked to dance to date. (Here's a video of another dancer performing the part.)
SemperOper Ballet's performance of Giselle was written up in  Ballett-Journal, and Julian  received a brief mention. He's in two photos. (You'll need to use Google Translate to read what was written about him under the one photo.)
With Giselle finished, the company now is rehearsing for the premier of Impressing the Czar, choreographed by William Forsythe. Julian was thrilled to be given the part of "Mr. Peanut." You can see him rehearsing in the video below. SemperOper describes the ballet this way:
Golden cherries, ostentatious dresses, a ballet set to classical music – the czar would have been very impressed. But he has long since been swept away, just as living legend William Forsythe tends to sweep away conventional dance: radical, peppered with humor, he demonstrates this in the ground-breaking ballet »Impressing the Czar«, which premiered in 1988. The story ballet without a story begins to opulent costumes and sets, a naughty pictorial broadsheet, which turns out to be a scathing satire of art history and deconstruction of the history of dance. On its ruins, Forsythe rebuilds a new world: Traditional ballet movements are heightened, accelerated and combined anew to create »In the Middle, Somewhat Elevated« – since 2006 part of the Semperoper Ballet repertoire – the center section of this ballet evening. Dance and dancers alike celebrate themselves to electronic sound beats: »Drive, sex and virtuosity«, according to one review. Excess is eliminated, and in the end of »Czar«, even the remnants of any cultural heritage are auctioned off. What remains is a wild troop of college girls dancing to MTV-like moves, as outrageously simple as it is breathtakingly fast-paced.
Julian assured me that Impressing the Czar would be performed next year in a variety of places, and I could come see it…maybe somewhere else in Europe. I hope he's right and that I also get to see him in Giselle in the coming years. While it's difficult to have him so far from home, not being able to see him dance sometimes feels harder. That's why I love this video (below)…even if it is just rehearsal. At least I get to see him dance!
(Julian is the first one you see when the dancing begins in this video. Then he is the one lying on the floor, and you'll see him at 1:12, 1:20-25, and 2:33. He also appears at 1:40 in the back and at 2:34.)