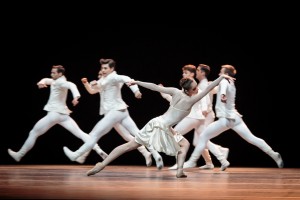 The curtain came down yesterday on the 2013-2014 Semperoper Ballett season. This marked the end of Julian's first year in the corps de ballet for a major European ballet company and his first year fully employed and living in his own apartment in Dresden.
Due to an unfortunate event just three minutes or so into the Saturday, July 5 performance that rendered one of the SemperOper Ballett soloists unable to perform in Tanzsuite, Julian took on the challenge of the role. In fact, he had about 30 seconds to decide to go on stage as a replacement rather than leave soloist Julia Weiss without a partner. He had rehearsed the part previously, but not in about a month nor with the corps. Basically, he saved the performance, but he did so not just by dancing the new part, but by dancing both his scheduled corps part and new soloist one! He would dance the soloist role and then run to his other place on stage to perform in his corps role as well whenever possible.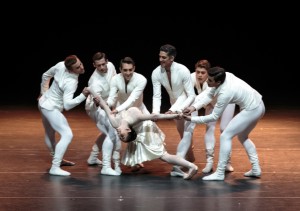 He was then given the opportunity to rehearse and to perform in the soloist role for two more performances, on July 9 and 11, finishing out the season in real style—taking bows all three times for one of his largest roles with the company to date.
Not a bad way to finish out his first full season as a professional ballet dancer. (Gotta say, I'm one proud dancin' momma!)
The pictures I've included here are of Julian in his corps role in Tanzsuite. He is second from the left in the first photo and first on the right in the second. Weiss is in the center of both.
You can read more about Tanzsuite and the premier here.
With the season over, Julian is in final rehearsals for a gala in Venice, which I'll write about in my next post. And he's preparing to come back to the States for a month.
Photo courtesy of official company photographer Ian Whalen.