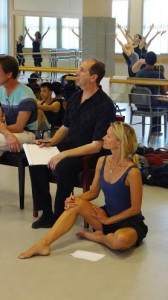 Boys mature at a different rate than girls. They deal with their emotions differently, and often have different issues as they move through puberty and into young adulthood. I think this can become even more pronounced for the young male dancer who may find him self sticking out like a sore thumb amongst his peers because of his choice of extracurricular activities, getting teased or bullied and spending most of his time with the opposite sex—while not necessarily understanding them. Plus, as other kids their age plan college careers, many dancing boys are struggling with the fact that they may want or need to go directly to the work world at age 18.
Mark Foehringer, artistic director of Conservatory for Contemporary Dance Arts (CCDA), formerly Teen Dance Company, discusses many of these issues in part two of my interview with him. You can read part one here. To learn more about Mark and CCDA, scroll to the bottom of this post.
NA: What are the biggest issues (psychological, emotional, physical) you have found when working with young male dancers, and how have you helped them overcome them?
MF: Boys come to us in all shapes and sizes and in all stage of development. They develop at a different pace than girls—psychologically, emotionally and physically as well.  I don't let them get hung up on any of the issues that come up. Boys are sensitive and often feel that they can't openly express some of what they are processing. Dance brings up a lot of feelings. Sometimes boys can not verbalize them.
Physical changes emerge, which in turn will influence their performance and training. Males are likely to show increases in strength and speed, often before they have the ability to control those increases.
Male dancers have a "win" orientation. It's more about achievement for boys. Boys are more independent, more aggressive and assertive. Boys tend to focus in on one task. Their "fight or flight" response is engaged more quickly than girls. All of this must be kept in check in for training a male dancer.
Boys at the ages of 15-20 are thinking about the meaning of life. They are thinking about their community and global and social issues. They are thinking about their future and where they fit in to the world. Our job as faculty is to help the dancer balance his life, which will enhance his health and well being and ultimately improve his performance. Nothing is more important than a student's well being.
It is the teacher's job to help the dancer balance life with dance. Getting to know each dancer and the aspects of the dancer's personality is important, so we can help to nurture his self esteem. It's important to listen and allow a dancer to share his input. It's important to have an environment for dancers to communicate and help them keep things in perspective and contextualize the experiences and activities in their lives.
Peer pressure is huge for all dancers at the ages I teach. Certainly a boy at the age of 14 or 15 has heard that dancing is for girls at least once. My reply to the boys who come to me and tell me that they were told that is to ask them what they like about dance and how it makes them feel.
Learning how to deal with peer pressure is part of growing up. As a teacher I can only control what happens in my classroom and the dance environment we are in. I let them know they can talk to me when they want, which sometimes just isn't "cool" for them, nevertheless keeping my eyes and ears open and communicating openly with them is part of my job.
Trust is a huge issue for boys at these ages. They are experiencing things that they can't even name.  I am not the parent, but without betraying the dancer's trust, I try to keep the parent updated on where the dancer is with all of the changes he is experiencing.
NA: Do you recommend young male dancers interested in contemporary dance go to college? Or should they go right into the dance world?
MF: I don't think it's a one size fits all situation. Frequently male dancers are in a different place in their training at the end of high school—not only physically but in terms of experience and goals.  Sometimes a professional dance job is the only way.
Often there is so much pressure placed on the male dancer to make good and make money right away. However, the job market is so hungry for male dancers that sometimes they take them before they are ready for a professional work environment, which can lead to injury.
I think college is important, but if the right job is calling, I say, "Go for it." A dancer's career is so short. I feel that if a male dancer is ready for professional work, he should take it. He can go to college later and be much more prepared to focus on committing to a college experience.
Having said that, some male dancers are not ready to step into the work environment and going for a BFA is a better option. It has to do with personal and cognitive skills as much as training. Boys develop at different paces. The important thing is to have a boy in the right program with instructors who understand that.
NA: Partnering for contemporary dance is much different than classical ballet. Can you explain the differences and how it affects a young male dancer or a male dancer in general? How do they have to train for this type of partnering and what skills do they need?
MF: Many male dancers who come to work with us have not done much, if any, partnering. If they have partnering experience they have generally been instructed to pick the girl up and not are always taught how.
We emphasize the proper partnering techniques regardless of the style of dance we are teaching. In our program we introduce partnering with weight bearing counter balance partnering skills, with emphasis placed on the correct body alignment they are learning in their technique classes. This gives the male dancer a grounded feeling to use as a base on which to build partnering skills. Rather than using strength the dancer learns counterbalance and weight sharing principles first. It teaches them to lift with the core, which is the safest way to lift anything. It also gives the male dancer a sense of his partner in a way that classical ballet does not. Contemporary dance uses a mixture of partnering skills. We teach them as many styles as we can. Knowledge is power after all. With boys, weight training is important as of age 15, with emphasis placed on not lifting 100 lbs but how to lift 100 lbs.
NA: What's the difference between contemporary dance and contemporary ballet?
MF: Contemporary dance uses the full range of movement of the dancer's body. It uses concepts and techniques of modern dance and movement invention. It can use elements of world dance such as African dance, Bollywood, or Balinese dance as well as western modern dance techniques. I have been seeing elements of Butoh being used lately.
Contemporary ballet is based in classical ballet technique. It uses elements of classical ballet and modern dance. It typically moves away from the strict canon rules and forms of ballet. Contemporary ballet uses movement invention and concepts borrowed from modern dance to break free of the formal structure of classical ballet.
NA: You have a wonderful young choreographer's program. What are 3-5 tips you can offer young dancers who would like to learn how to choreograph?
MF: I think exploring choreography is a wonderful way to learn not only about choreographing but also about oneself as a dancer. Whether the dancer has aspirations to follow the choreography path or not it helps a dancer learn amazing things that can be difficult to learn as a dancer. Lessons like making choreographic choices, coordinating a group of dancers, how a dancer fits inside a piece, and what purpose they serve in that piece. All of these will benefit a dancer going into a professional dance environment.
The first thing I always say to a young choreographer is "go with the movement and the feelings that come from inside you." Dances don't need to be about anything. It is one of the great things about dance. Dance is about life. The great post modern choreographer Pina Bausch said "the dance begins when the words stop."
I ask them to not plan their dance out in their head. While it's important to have a story board as a guide for creating a dance, choreography is about movement invention and taking concepts and generating movement to express the concepts or feeling. Go into the studio everyday and make movement, explore, investigate, research, share it with others, talk about it, and ask for opinions. And finally don't be afraid to start over if you need or want to.
I try to remind them throughout the process not to be afraid of feedback. Often feedback can give an insight into their work that they had not yet found or realized. The creative process will take the dance maker on a journey. I tell them to let the journey happen.
About Mark Foehringer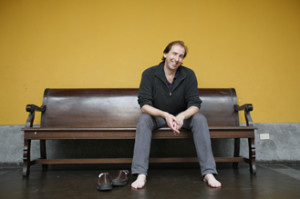 Over the past 38 years in the dance industry, Mark Foehringer has created a dance organization, directed two pre professional dance programs and made works for dance companies and dance programs, directed operas and developed collaborative projects with musicians and other artists. He is a producer, presenter, director, teacher, choreographer and mentor.
Mark Foehringer is an internationally active choreographer and dance educator who has directed his San Francisco based contemporary dance organization, Mark Foehringer Dance Project|SF(MFDP|SF), since 1996. Foehringer choreographed and taught throughout the US and abroad, working with organizations that include: Rambert School of Contemporary Dance in London, Ballet Nacional del Peru, Ballet San Marcos of Lima and Cisne Negro Dance Company of Brazil. Outside of Northern California and the San Francisco Bay Area, Foehringer's company has been seen in Aruba 1997, NYC 1999, 2000, 2005 and 2012, Peru 2007,2008 and 2012 as part of the US Public Diplomacy Program.
In 2013, Foehringer launched Conservatory for Contemporary Dance Arts, a training and mentoring program for dancers ages 14-21. CCDA has as its primary focus the preparation of dancers for university dance programs or professional dance opportunities.
Foehringer received two Fulbright Scholar Grants to lecture and set work in Peru in 2007 and 2012. He returned to Peru in 2013 on Specialist Grant through Council of International Exchange for Scholars. Beyond work for dance companies and university programs, Foehringer has worked with Festival Opera, West Bay Opera, San Francisco Conservatory of Music and Children's Creativity Museum of San Francisco. Foehringer directed opera productions of Britten's "A Midsummer Night's Dream", Gounod's Faust, Donizetti's "Lucia di Lammermoor" and most recently Verdi's "La Traviata" for Festival Opera of Walnut Creek.
From 1996 to 2006, Foehringer served as artistic director and resident choreographer for Western Ballet in Mountain View, CA.
Foehringer grew up and started dancing in Sao Paulo, Brazil. He went on to train and perform in New York, London and San Francisco.  In 1977, he joined Cisne Negro Dance Company with whom he toured throughout South America and Europe for 10 years.
About CCDA
CCDA
is preparing the next generation of dancers, choreographers and dance educators through instruction, performance experience and one on one mentoring. This program is designed to prepare dancers ages 13-21 for their next step in their dance plan.Under the direction of Mark Foehringer and his faculty of world class teachers, the young dancers of Conservatory for Contemporary Dance Arts experience the work of 13 guest artists each year and perform works by some of the most sought after choreographers in the Bay Area and nationally. Our program prepares each dancer for their next steps with dance, be it a university dance program, a conservatory program or a professional dance experience. Check the CCDA calendar for programs this summer and auditions for next season.