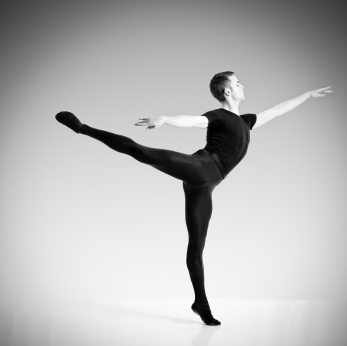 With summer ballet intensives the topic of conversation at this time of the year, I'd like to take the time to address a question I often get from dance moms and dads: When is the right time to send my dancin' boy off to an expensive summer intensive?
Let me preface my answer by saying that every boy is different. And his teacher will know best when the time is right for him to branch out and go somewhere else to be seen and to experience other teachers. I am by no means an expert at evaluating if a dancin' boy is at the perfect level or emotional state to leave the womb of his current studio and venture out into what might be a very different and much more competitive environment from what he is used to.
However, I want to caution you that your son's dance teachers may not always be the right ones to ask for advice either. Some schools and teachers encourage participation in summer intensives outside the school. Others frown on it or even disallow it. Keep in mind that if you ask your son's teacher or school director for advice, he or she may have his or her own interests at heart as well as your dancin' boy's interests. By this I mean that dance studio owners and dance teachers have fears—and with good reason—that if they send their students off to other schools for the summer, the boys won't come back. And with boys so hard to come by, they may be inclined to advise your son to stick around for their in-house intensive rather than risk losing him to some other school (and possibly a school with more boys and a bigger or better program).
This is where being the best dance mom or dad means becoming your son's manager. Literally. If you don't have someone you can trust to ask for advice—someone with no financial interest in your son's career—then you must start managing his career for him. You must learn to do what you feel is best for him.
When should you send your son to a summer dance intensive?
If you see that he has been getting good parts in the school shows, is moving up in class levels and is even excelling to the point of being one of the best in class.
If you feel your son is not getting seen in class, not getting the corrections you or he would like to get during class and not getting the parts he wants in school shows.
If your son feels he has hit a plateau.
If you feel your son's teachers can't take him to the next level.
If your son is not dancing with many boys.
If your son is not getting to partner very much (and is at the age where he should be partnering).
If your son has the desire to explore other schools.
If you or your son thinks a year-round residential program is the next step in his dance education.
If your son wants to experience the dance program at a college he is interested in attending.
If your son is not getting high enough quality ballet instruction and wants to supplement during the summer (or is in a program with a variety of types of dance and wants more ballet training).
If your son wants to explore a particular type of dance, like contemporary ballet, hip hop, tap, or classical ballet.
The other question I get asked that seems to go with the first question is: When should I pay for the expensive programs—and how? If you feel your son is ready for a summer, it's time to pay for one! If you think he's ready to attend a large, expensive ballet program like ABT, SAB, SFB, Harid, Boston Ballet, or some other similar program, then it's time to ask for a scholarship or get ready to pay the big bucks. (Best to start saving early if you can…) Some programs will offer your son scholarships, but others will not.
Parents pay for these expensive programs in a variety of ways, such as giving up vacations, living with friends or relatives rather than in the dorms or an apartment (if housing isn't included) or even dipping into college funds. (We did not do the latter until Julian went into a residential program during the school year.) Every program you enroll your son in that helps him get to his goal—professional dancer—is part of his education including a summer dance intensive. If he does not plan to go to college, every single dance class equates to career-related education. When you decide to dip into a college fund (or if you do) or to make the family sacrifice for one member, again, is a personal choice.
And if you can't afford one of the programs, then find one that will offer your son a scholarship. Send him off to every audition that comes to town, and take the best deal he's offered. In the meantime, save your pennies and dimes until you can afford one of the other programs. He'll learn something no matter where he goes. If he is young, in particular, he has time to go to the larger more expensive programs. Start small and build up if you must.
Don't forget to purchase a copy of the revised and updated
Summer Dance Intensive Handbook
Now just $2.99 (reduced from $7.99).
Purchase it from Smashwords.com,
and SAVE an additional 20% by using this Valentine's Day coupon code below.
Photo courtesy of istockphoto.com