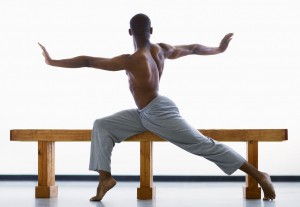 This past week I received an email from a young dancer. He's just graduated from high school and has only been dancing for two years. Yet, he wants to become a classical ballet dancer. Not surprisingly, his parents don't share his dream.
I say "not surprisingly" because I have probably met or heard about more parents of male dancers that don't support their son's dancing than I have those that do. It's the ones that make it to the top levels of dance that seem to have the parental support or the ones who simply can't live without dance and will dance no matter what–even if that means going against their parent's wishes. That's why today I thought I'd spend a bit of time addressing this issue. Of course, I can't change this young man's parent's minds. I could offer him some options on where to study ballet at his age and possibly how to fund that study. I could encourage him to follow his dream, as were his teachers, when his parents wouldn't follow suit.
If you are a parent of a young male dancer who has landed on this blog today because you don't know what to do about your son and his dream of dancing you are probably looking for one of two things:
a way to convince him to stop dancing.
a way to support his dream even though you think pursuing dance is a mistake.
You won't find any help for the first in this post, unless he has no talent. The only reason I would encourage your son to stop pursuing a career as a professional dancer is if he doesn't have enough talent to succeed in this job. So, take him off to two or three people who are objective–professionals in the area of dance he wants to pursue, and ask for their feedback or critique of his ability and potential. If they say he has the talent, then, by all means, he should follow his dream (and you should read on). If they say he does not have the talent, he should probably dance for sheer enjoyment or find some other way continue dance, but he should also find a new career path.
If, however, these dance experts tell you and your son that he does, indeed, have talent and could have a professional career as a dancer, you should–actually, I'd say must–allow him to try to realize his dream. If you don't, he will always wonder if he could have done it and he may hold not having pursued his dream against you.
That brings us back to the point of this blog post: How do you help your son realize his dream even when you don't  share it? Here are 5 ways:
Agree to disagree. This step is necessary for all the others. Simply tell him that you don't think dance is the right path for him, and explain why. Offer up all your arguments. Get all your objections out on the table but without anger. Tears are okay. Be  totally honest. Then–and this is the important part–tell him you support his dream anyway and will do whatever is necessary to help him achieve it. Or, if you can't get quite that far, tell him you won't stand in his way and will be there for him in  whatever way possible or that he needs.
Allow him to get the training that will let him succeed. Don't hold back your support in any way, especially financially because you don't share his dream. Don't not show up for performances.  And don't tell him you saved money for college and that money is only available for college. Just like a son who wants to be a lawyer or a doctor needs an education, your son needs one as well. Allow him to get it. If he fails and needs to go to college one day, he may need to get a college loan. That's a risk he takes–not you. Explain the risk, and let him take it.
Help him get good advice. Don't leave your son alone in his decision making about his career just because you don't care or don't agree. Help him find the right people or professionals who can give him the advice he needs. For example, the boy I spoke with this week wants to be a classical ballet dancer, yet he was told to apply to some conservatories.  Most conservatories turn out contemporary ballet dancers. He had a few colleges on his list with strong ballet programs, but with only two years of ballet under his belt, he's be best off with an intensive ballet training program. There aren't many places to get that, but there are a few, such as City Ballet School in San Francisco–where he can also find out if he has the talent to become a professional ballet dancer.
Don't denegrate his dream in word, deed or attitude. No matter what, keep your feelings about his career choice to yourself. Don't make him feel he has to hide what he is doing or be a "closet dancer" in front of you.
Never say, "I told you so." We all have dreams we want to pursue, and they don't always work out. Dance is a hard road to hoe for boys, especially at a young age. If he quits or it doesn't work out, give him credit for following his heart. Not everyone does that. Dance is a difficult career for both men and women; many don't make it professionally. Give him a shoulder to cry on, a room to come home to, the support he needs as he transitions into a new career.
I'm sure there are other things parents can do to support their sons when they don't support their dance dreams. If you have a suggestion, please add it in a comment.
Photo courtesy of microsoftclipart.com