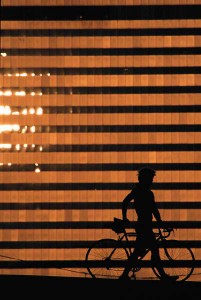 It's been 11 days…and news has been sparse from Germany, to say the least. As you can imagine, with my hubby gone to Berlin after dropping Julian off, the house is quiet. Just the cat and me at home, reminiscent of when Ron took Julian off to SAB last fall.
Just as when Julian left for New York, I have been very sad. This time, however, it's been different…In some ways easier, and in some ways harder. Easier in that my grief seemed to pass sooner (or so I thought). Of course, I occupied myself after just two days with a trip north for business and didn't come home for two days. Then I came home and felt quite lonely and depressed.
I thought about it and concluded that the long period–15 years–of being so involved in Julian's dance career, actually functioning in so many ways as his manager, is over. The huge amount of energy and time I (and my husband) have spent on him and his activities is over. Yes, last year he was in NYC and we were removed from what he was doing, but we were still involved. And we were a part of the audition process. We were involved to a great extent. That is over and done with. My husband also said he felt depressed. No wonder. One huge part of our lives is over. And it leaves a hole. Especially because we cannot even see the fruit of our labor–we cannot watch our son perform. That breaks my heart.
Today, with Ron leaving Julian in Dresden after his weekend visit–the last time there will be any family there to help him or see him until possibly November (but I'm not even sure about that)–I suddenly was overcome with sadness and fear. I cried harder than I had when Julian and Ron left that ticket counter at the airport to head for security.
After all, this is my little boy being left alone in a foreign country. He's only just turned 18. It would be one thing if he was going off to college here in the states. But his is in another country and he's working like an adult.
And…and…I've spoken to Julian only twice since he got there and once for only about 2 minutes. Even his father didn't speak to him much until he arrived in Dresden this weekend for his last visit prior to returning to the states on the 24th. (He still has business in Berlin until then.) I had a few brief chats with him on Facebook–a few sentences. Today, we had a long chat on his Dad's phone. But Julian's phone has no long distance calling, and he has no internet in his room yet, so we can't Skype call. Until he sets up the internet, we cannot communicate.
There are some things that need to get handled that I'm worried about. As always, I'm concerned they won't get handled, but I've had to resign myself to the fact that I can no longer do anything…can't help, can't push, can't prod, can't even really ask about these things. It does no good. I can't help from across an ocean and with the language difference and all. I wouldn't know if Julian had done what he said or I asked him to do or not. Today I told myself and him that I have to let go…feels too early but I know it's necessary.
As for the news from Dresden, Julian has moved into a dorm. He has five other roommates, although he has a single room, but he has only met two; everyone is on break until October. He says the dorm is nice. Two bathrooms. The young engineering student speaks English and is pleasant; the young girl doesn't speak to him at all.
He has managed to open a German bank account; he still has to figure out how to transfer money into it from his American account. His student visa is arranged by Palucca, the ballet school, because he is a student there. He does not yet know when he gets paid, but he hopes it's in time to pay his rent at the dorm.
He has become fast friends with two other apprentices, and so he spends all his free time with them at the moment. I'm glad he has someone to do things with.
He began taking company class this week. It seems most of the other male apprentices have been moved out of company class and into another class,  for apprentices, I think. Julian (so far) has remained in company class.
He is now going to be taking company class (or class…we'll see) six days a week and rehearsing as well. His schedule depends on the rehearsal schedule itself. For instance, one day, he only rehearsed from 4-5 and on Saturday he had no rehearsal at all.
La Bayadere is the first ballet Semperoper Ballett will perform. Julian was given a role in the first cast as a Fakir and in the second cast in a Pas De Quatre. He is also an understudy for that, I think, for the first cast. He said someone told him the part he was given is hard and other more experienced dancers have failed at it. So…we'll see how he does. Fingers crossed. They open on the 31st and perform for 5 days. I wish Ron could have stayed another 6 days…
Julian says he likes Dresden. He's enjoying the food. He's getting around fine. In fact, he found an abandoned bike that he rode until it totally broke; seems it was broken to begin with. Now he is planning to purchase a bike to get around. It takes him 10 less minutes to get to the theater by bike then by public transport–and most of the dancers ride bikes. I'm pushing for a helmet and offered to pay for it. Seems helmet wearing is not so common in Germany.
I'm glad my son is adjusting and so far doing well. He's only had four days of actually company class and rehearsal, though. We'll see how things continue. As for me, I'm adjusting, too; seems harder for me, but that's always the case for "the one left behind." It's definitely hard to let go…