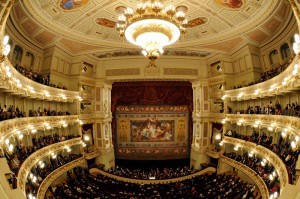 Today is the big day. It's 1 a.m. in California as I write this but already 10 a.m. in Dresden, German. Julian is in company class by now. Semperoper Ballett will likely rehearse today and then the company opens the season tonight with La Bayadere. My son will go on stage i that beautiful opera house for the first time as a professional dancer.
And there will be no dance mom in sight. No dance dad either.
I stayed up late hoping maybe I'd hear from him on Facebook or Skype before he started his day. Nope. In fact, we've heard nothing from him since last weekend.  He was doing well. He was getting mentored by two of the male dancers, which is great. All the apprentices were now in their own class due to space restrictions; the company is too big and the studio too small. Rehearsals were going well. He was hoping to maybe move into an apartment. he was waiting for the bike he ordered to arrive from England. (Yes, England.) He said he might still enroll in an online college course (we've been working on this for a month). He was enjoying his friends and being in Dresden.
But that was it. We've been pretty much out of the loop since. And with his big day almost here…well, here now.
We check this blog daily to see photos taken by Ian Whalen, a corps dancer and photographer at Semperoper Ballet. It's like a tiny window into Julian's day…tiny. Not big enough. No photos of him.
I had a moment of anger (masking my sadness), when I told Ron, "We got him to this point, you know? Without us, he wouldn't be there–on that stage. He could at least call and share the experience with us." But I suppose it's only normal that he is so caught up in the experience itself that he simply doesn't even think to call home. (If he were in college it would be no different.)
I wish so much I could be there to watch…But I can't. And life goes on and changes. For him, for me, for all of us.
I'm not sure what the future holds for my husband…if he will even make as many trips (if any) to Germany. Bad timing on that change, I must say, since I was planning to join him. I'm hoping it won't be the case. There's a chance it could go the other way–requiring more European travel. (Yay!)
And I will now have to take a new direction on this blog. Just as Julian performs without parents, this blog will have to perform with Julian…without the son who dances…to large extent. Why? Because I can't continue writing about him now that he is a professional–at least not in the same way. I can't reveal intimate details about him that could jeopardize his career in any way. So, you will find me sharing some things about him–the roles he is taking on, any reviews of performances I do get to see, any other small details, about his adjustment to life as a professional–but nothing personal. Just information that other parents and young dancers could find useful.
So, what will I write about on the blog?
I will try to find time to do more interview with professionals.
I will write the kind of articles I might produce for magazines–and have in the past.
I will share tips and information gleaned from my 15 years as a dance mom to help you raise a professional dancer.
I will begin blogging the books, or parts of the books, I intended to write from the first day I started this blog. So, you will be privy to the first draft of those books–and all the great information in them intended to mentor boys on their journey to become professional dancers.
It's a new phase in my son's life, and in mine. I suppose that's a good thing. He's doing what he is supposed to be doing–fulfilling his purpose–and I'll go on and do the same. I hope you'll still enjoy following the intertwined dance.