I had the pleasure of speaking to Joey Dowling last year when Julian attended the New York City Dance Alliance convention in San Jose. She told me some stories about her transition from dancer to businesswoman that I found quite interesting. Like Joey, as a young teen Julian spends all his time dancing. By the time he decides to transition out of dance as an adult, he likely will have never held a full-time or part-time job. That was the case for Joey, who says entering into business has been a frightening experience. Now on top of being a former dancer, she's a dancewear designer. Her transition experience gives us parents something to consider as we support our boys in their careers.
Of course, Joey's not just any old dancer either. She's performed on Broadway, in Radio City Music Hall, with great singers, and she's worked as a choreographer on some award-winning shows. Her versatility made her a pretty interesting person to interview for My Son Can Dance. She's worked with a ton of male dancers.
So here, at long last, is my very long interview with Joey. I've not cut much from the interview at all. I found most of what she said fascinating and useful for all dancers—not just boys. We covered a variety of topics–how to become a professional dancer, the primary issues male dancers face, how to transition out of dance, and how to become a choreographer, and you'll find them all in my next few posts.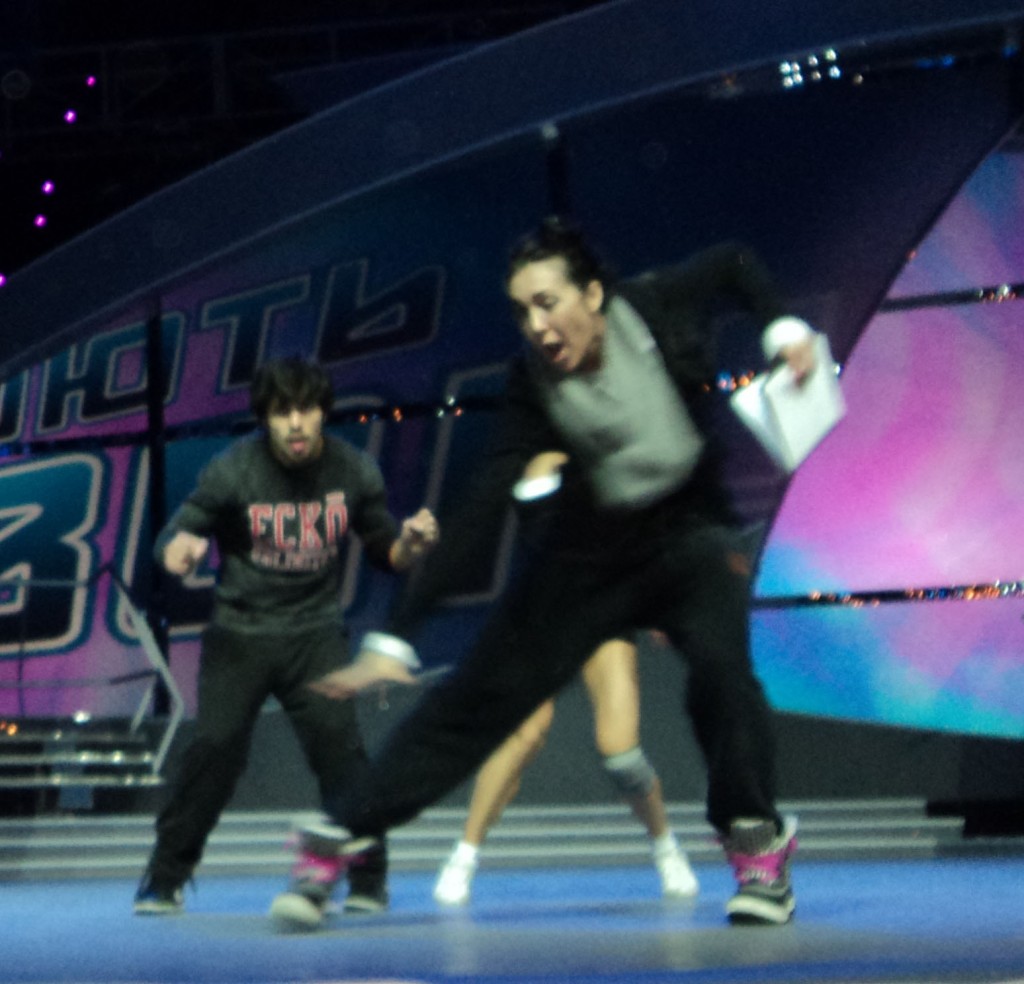 For those of you not familiar with Joey, let me tell you a bit about her. Joey has been teaching, performing and choreographing in New York City for the past 12 years. She was a featured dancer and body double on Mariah Carey's "Butterfly" World Tour. She performed in the "MTV Video Music Awards" with Jennifer Lopez, the "VH1 Vogue Fashion Awards" with Macy Gray, the "Victoria Secret Fashion Show," on "Sex & the City" and on "Guiding Light." She was a featured dancer in the movie CHICAGO, directed by Rob Marshall, and also appeared in the movie The Producers. Her Broadway credits include: Sweet Charity, starring Christina Applegate, in which she played the role of Elaine, A Funny Thing Happened on the Way to the Forum (Vibrata), Dance of the Vampires, and The Mambo Kings, in which she was a featured dancer. She also was a Rockette at Radio City Music Hall.
Joey's choreography credits include serving as the associate choreographer for the Tony Award winning Broadway hit In the Heights. She also was the associate choreographer of the Encore's summer series production of The Whiz starring Ashanti. She has choreographed on the past three seasons of FOX's So You Think You Can Dance as well as on the Ukraine version. She has taught at Broadway Dance Center and Steps on Broadway in NYC and guest teaches in Amsterdam, London, and around the US.
Joey's love of fashion and dance inspired her and sister, Jacki, to create a dancewear line called  JOANDJAX.COM.
Joey is a dynamic and versatile dancer, which makes her a sought after teacher and choreographer. All male (and female) dancers can learn something from her. Read on to hear what she has to say:
When you work with young male dancers, for instance at Broadway Dance Center or New York City Dance Alliance, what issues do you see most commonly, and how do you correct them?
One of the biggest things I see is a lack of confidence. You can kind feel an energy in the boys trying to find themselves and trying to find a place to fit in, probably because there are so many girls in class and a lot of classes are geared to girls. There is a self-esteem issue you can sense that comes from the guys trying to find themselves in a world full of women even though there is a very strong place for men in dance.
Many men struggle with flexibility; that is one of the biggest issues. And a lot of them struggle with technique, but in the man's dance world a lot of them can get away with having these issues because there are so few of them. For every 50 women there is one man. When I used to go to audition there used to be 300 women and 30 men.  So the biggest things I see men struggle with are confidence, dancing like a man, flexibility, and technique.
Do you have any suggestions for parents or teachers of young boys beginning to dance?
When teachers or parents want young boys to take dance, you don't want to shove them into ballet right away. You have to ease them in. You have to make them realize dance is cool, and ballet may not be cool for a very long time—actually until they get to a place where they become better dancers and are growing as dancers and getting style and technique. Then they realize, "Wow, I like this, and I'm good at this."
That's the time you can tell them, "You have to take more ballet." Then they are willing to do that because they realize the benefits of taking ballet. That's better than shoving an eight year old into a ballet class like you can do with a young girl. Boys aren't going think that's cool. Ballet is cool for a young girl. They like it and all the stuff that comes with ballet. For men it's a different process. A lot of studio owner shove the young men into dance competition numbers and don't tell them they have to take a lot of class to be part of the team.
If men and teachers realize and push envelope by stressing the benefits of taking ballet and getting technique at a young age, then the men won't run into those brick walls when they are older and have to go back and put the puzzle back together because they pick up choreography quickly but the lack of technique and style kicks them in the butt. They realize they have to go back to get more ballet.
In terms of building confidence, I find teachers need to make a man dance like a man. A lot of the time we see teachers and choreographers of dance and competition studios make boys dance like a girls, and it's just not beneficial. The teachers and choreographers need to realize they have a man or a boy on stage. These kids need to dance in a masculine way, and they should be allowed to be that guy figure on stage. It breaks my heart when I don't' see that. For these young men to have individuality and knowledge of the presence men can have in the dance world they need that experience.
When they are denied that experience, a lot of other things come of that—problems in school, being made fun of because they dance. Dance can be very masculine, but it starts at a young age. They need influences in their life to help define that men can dance and be masculine and cool.
You and your sister had quite a shock when you began thinking about developing a new business-oriented career away from dance. Can you describe this?
I danced my entire life at my mom's dance studio, got a scholarship to New York University, moved to New York City, went to college for a year and a half, and then immediately started performing. I did Broadway shows, commercials and film and television. I was lucky enough to make a career out of dancing.  I never once had a regular job. Well…I once was a hostess at a restaurant for three months when I wasn't doing a dance job, and I thought, "You know what, I should get a job." That was the only time in my whole life I had a normal job.
This was true for my sister as well. She did Rockettes and dance jobs. She never once had the experience of working in retail or for a company or 9-5 like the rest of the world. So, when time the time came to initiate the beginning of our dance clothing company we had the shock of the century. We knew nothing about starting a company. We had to read books on how to start your own company and on pattern making and on start-up companies and clothing companies and retail companies and starting your own company for dummies. It was really scary because we didn't know what we were doing. We were constantly asking questions of people and constantly asking people for advice, constantly trying to meet with people who could tell us what to do and what not to do. Even then, at the end of the day we still felt frustrated and overwhelmed because we didn't know what we were doing.
We knew we had an extreme knowledge of the dance world and what was lacking in dance clothing. I had the knowledge of what I like, what my sister likes, what I  think is cool, what material I like, and the way I like my dance clothes to fit, I know what styles are universal that I can wear to any audition and some that are very specific that I might wear to a jazz audition or that I might stick on heels with and wear to a musical theater audition.
And we knew there wasn't a dance brand out there that catered to the people we catered to and that had the garments we had. Any other dance line out there doesn't come close to our line. That's the reason we started and that's what keeps us going. Every other aspect of the business is still overwhelming and a learning process. What keeps us going is our confidence in designing and knowing what is lacking and bringing that to the table.
Did you know it was time to transition out of a full-time dance career or did it just happen?
My sister and I were both in the Rockettes, still both training and taking class, and both still auditioning and performing. I used to make my own dance clothes. I would find a seamstress in the city and design thing. So would my sister because nothing fit us. I was too tall. I didn't like the cut of most dancewear. It was too balletic. I didn't like the material. The colors were boring or plain.
All of my friends at auditions and our Rockette friends would ask, "Where did you get that? I want one." Seven or eight years ago, while we were still in the Rockettes we had a seamstress do a custom order. We designed five items and sold 400 over the course of a 10-week season. We did this over two seasons. Then we waited about a year and a half before we thought, "This is stupid. We should do this." With lots of family help, we got started.
I guess I didn't know I needed to transition at that particular point. I know I don't want to dance for the rest of my life, but I know I wanted to be involved in the dance community in some way, shape or form. This was a way I could do that. My sister and I wanted to be smart and to be able to make money and own a company and not have a 9-5 job the rest of our lives.  If we work hard at this business, there will be a point in our lives where the company will run itself and we won't have to do much. That was a big factor as well.
Check back for part 2 of Joey's interview. And don't forget to help make My Son Can Dance the Best Dance Blog of 2010.  To find out how, click here.