One of the issues we've been struggling with lately has been whether or not Julian will go to college. We've always assumed he would, but in the back of all of our minds we knew a chance existed that he might simple end up dancing. As they say, dancers dance. (Expect to see more posts on this particular topic.)
When Julian left TDC, a pre-professional contemporary dance company, for City Ballet School this year, his dance teachers at TDC voiced a concern that by entering into the world of serious ballet dance he would be pushed right into a ballet company after high school; they felt strongly he would benefit by attending a dance program prior to beginning his dance career. We have found that most of the girls in the ballet program plan to go right into a ballet company, and the teachers the focus of the school revolves around turning out professional-level ballet dancers.
As a result, Julian is beginning to wonder what he will do if he were to be offered a spot in a ballet company trainee program of a spot in a company. This becomes a higher likelihood now that he will be competing in the Youth American Grand Prix. (I know I said he wouldn't be, but things have changed.)
As parents, we tend to feel three or four years in a dance program at some college or university would prove a good thing for Julian. Of course, he has never been too focused upon academics. He prefers just to dance. Dancing for a year or two and then going to college seems out of the question, since a dancer's career is short enough; he'd then enter the work world later than most dancers who go to college first. That said, he'll be a young college student—just barely 18, and my daughter (also a summer baby) had a difficult time adjusting to college life for that reason.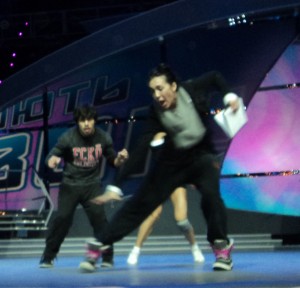 So, one of the lines of questioning I took with dancer and choreographer Joey Dowling revolved around education for male dancers. We covered not only college but the other bits of education dancers need to succeed—singing, acting, etc. In this third part of my series of posts based on my interview with her  you get to read what she had to say on this topic.
(If you want to know more about Joey, please read her bio in post #1. You can read post #2 here.) These posts dealt  more with transitioning out of dance and choreography.
Do male dancers need to go to college (or should they), and, if so, should they be taking something other than just dance, for example, business courses?
I think it is different for every person. My first instinct is that, yes, they should go to college. If you graduate from a performing arts or a regular college and you wait until you were 21 to start your dance career instead of 18, you gain so much maturity in those three or four years.
A lot of kids who move to Los Angeles at 18 get lost in the crowd. They don't have a disciplinary kind of schedule.
Although I think it's a good idea for men to go to college, there are certain people who don't want it or need it. I've watched certain people move at 18 and start working right away and they are very solid and grounded. They know what they want and how to get there.
Tony Testa is a great example of that. He moved to New York at 18 and was so determined and dedicated and committed. At 23 has just finished choreographing Kylie Minogue's tour.
Then you get others his age who might be kind of lazy. They might be dancing behind Usher for a few shows and never do much more or try to advance themselves. They move to LA and they go to auditions once or twice a week and hang out with their friends. College really helps people direct themselves to what they want or if someone doesn't need that and creates that for themselves they could opt not to attend.
Someone like Tony has danced and performed with several people, and he's already choreographing and wants to direct. He knows exactly what he wants. He studies every day and reads book on directing and cinematography and enrolls himself in classes on film making. People like him know exactly what they want and how to get there. He is kind of schooling himself. It's catered to what he wants.
Is it worthwhile for young men to consider some of the good dance programs like NYU, Fordham and Juilliard?
These are great programs, but it also depends on money. There are so many kids whose parents can't afford that, but they have the talent or the drive. So they move to LA or New York and they start working right away.
For a male dancer wanting to make it on Broadway, what are the most important skills to have?
A lot of personality—the guys that have a lot of personality end up getting a lot of Broadway shows.
Obviously acting capabilities are fantastic. What dancers don't know is that the chorus usually has 6-7 men and 6-7 women on average. In those 6-7 there are almost always about two ensemble roles that cover a lead or supporting role. When you are casting a Broadway show, most of the ensemble members have to sing and act as just as well as they dance because they are covering a role. So it is so important for them to be able to sing and act because you are not just going there and being an ensemble member; you are going there so they possibly have a cover for a lead.
One of the biggest mistakes I see is that male dancers go into auditions, but they are fantastic dancers but can't even hold a note or can't act their way out of a paper bag. It they had just a little experience developed as far as acting and could sing a song that wasn't that hard, and had some confidence and personality they'd end up in a Broadway show.
This happened to me. I'd never sung, and I'd never taken an acting class. It was like starting from square one. I could school 500 women in a dance call and be the best dancer in the room, but the minute we went to singing and acting I was at the bottom of the list because I had no experience in it.
I then had to spend a ton on singing and acting lessons. I probably spent $15,000 on singing lessons over the course of 10 years when I could have done it in my home town once a week while I was in high school. Then I would have come to New York and, bam, I would have been in a Broadway show. It took me being frustrated and crying when I got home from auditions because I sucked at singing. It was horrible.
So a male dancer wanting to perform on Broadway must be a triple threat?
Absolutely, hands down, that's the number one thing.