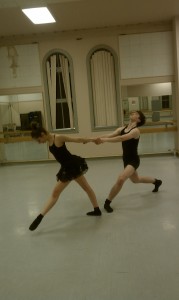 My husband and I firmly believe that one of the things that makes Julian such a good dancer is the variety of dance training he received but, in particular, the years of contemporary dance training coupled with his classical ballet training. This also makes him a more marketable dancer. Of course, a dancer most have an innate ability "to move" as well. However, in addition to the variety of places he received classical ballet training, we credit Teen Dance Company with giving him a sound foundation in contemporary dance as well as an introduction to modern dance. That program has now been taken over by its artistic director, Mark Foehringer, and renamed as Conservatory for Contemporary Dance Arts (CCDA) and continues to provide the same great training to teen dancers in the San Francisco Bay area.
I had the chance recently to speak with Mark about many topics of interest to young male dancers and their parents. I thought that conversation would be worth sharing. Below, please find the first of that two-part interview. To learn more about Mark and CCDA, scroll to the bottom of this post.
NA: There aren't that many schools that focus on contemporary and modern dance. Why is it important for young male dancers to focus on "contemporary dance arts"?
MF: In today's dance market a dancer can not afford the luxury of training in only one dance discipline. Dance companies are looking for dancers who are versatile and can do it all well. Our curriculum at CCDA is built to provide the most comprehensive training for all dancers. We bring in the best in the field to share and teach all the skills needed to be a performer in today's dance market. The steps are not the dance. The dance needs to be imbued with breath, energy and life force. The steps are just the script. Our program is centered around how that "script" is interpreted. We teach ways to approach dance forms, the influences that make up the art of dancing, problem solving and preparation for performance.
NA: How important is ballet technique to success as a contemporary dancer?
MF: Ballet is very important for contemporary dance training. So much of contemporary dance today is about deconstructing formal dance styles. Having the formality of ballet training under ones belt to use a touchstone is crucial. It gives the dancer context and reference while exploring other dance styles or systems.
The few times I have tuned in to reality shows about dance, I have heard the judges giving feedback about lack of ballet technique and structure. Even those dancers who plan a career in commercial dance must invest in ballet training. You can put your eye on any dancer and in seconds know whether she or he has ballet training. It's a structure that you place layers on.
Ballet technique is the universal dance technique. It is used by most professional companies, ballet or not, as a common ground for preparation. In the university environment is it used as an evaluation tool and is often the first class a student takes in the audition process. In our program we use it for alignment, strength, clarity of positions, dynamic, and musicality.  The alignment and strength aspects of good ballet training are what will help prevent chronic or career-ending injuries and allow a dancer a longer, healthier dance life. I stopped teaching ballet for 2 years in the '90s when I had an injury and studied to be a neuromuscular therapist. It helped me refocus my teaching. I use my understanding of anatomy and kinesiology to build my class, which I believe gives my students an advantage.
NA: Why do you have the students at CCDA audition for each choreographers' piece? What is the importance of that in terms of their training and ability to succeed as professional dancers?
MF: Auditioning is not easy. A dancer can be proficient in the studio or on stage and then completely fall apart during the audition process. Auditioning is a test. We try to help our dancers understand that the audition process is as much about the auditioning organization as it is about the dancer. Everyone is looking for the match, the fit. Often organizations are looking to fill a spot or find a match for a group of dancers who is already working with them.
NA: You bring in 13 different choreographers to CCDA each year. How does that help develop a young male dancer and prepare him to become a professional dancer?
MF: The need for well trained young male dancers in the dance market is huge. Giving our dancers the exposure to these artists' classes, workshops and choreographic processes allows them a look into the professional dance world.  Experiencing these different processes and dance influences broadens and enriches their training. We want to give our dancers the opportunity to perform roles for classic repertory as well as choreography that is made for them specifically.
NA: Why does CCDA focus on "performance" over "competition"? And how do you feel about competition companies or schools? What should parents or students look out for or be aware of when evaluating schools if they like to perform and to compete?
MF: CCDA has as its focus the preparation of dancers for college dance programs and professional dance experience. Our expert faculty does this through in-studio dance training, preparation for performance and one-on-one mentoring. We believe that the process of making a dance and preparing it for the stage has many more rewards than competing. We are interested in teaching the art of dance and all that it involves. Each dancer has something special to offer. We spend our time getting to know our dancers and guiding them through the training process. We are trying to develop our dancer's sensibility and love for the art of dance. We encourage the study and observation of movement and art and how it relates to life. Dance is a life-long discipline. It is not about the trend, the tricks or the 30-second video clip. Dance is the practice for life.
I have nothing against competitions in anything. It just seems like a long way around getting to what is important in dance, which is training and art.  It may come down to the difference between art and commodity. There is so little time to get a dancer trained; allowing the dancer, as an artist, to understand the dance and invest themselves in what it means and how they, as artists, can bring a choreographer's vision to life on the stage.  I am not sure that schools or companies that have competitions as their sole purpose can teach anything but the trends and tricks, the commodity—I mean the objective is winning these competition, correct?  I am also not sure what a dancer does after he or she has won all those trophies. I have had many students come to me over the years saying they won Mr. or Ms. Dance something or other. I had to start their training over from the beginning in most cases.
I think parents should be looking at what is being done in the class. It is the biggest indicator. Are the teachers prepared? Do the teachers know the material they are teaching?  What is the focus of the program, the mission or vision? Is it being addressed?
If a parent is looking for a school that competes, look at the kids. Is the focus on winning or performing? It is important to learn how to be on stage, backstage and the milieu. These are significant lessons to learn and young dancers can grow through those experiences as well.
About Mark Foehringer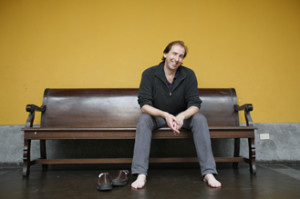 Over the past 38 years in the dance industry, Mark Foehringer has created a dance organization, directed two pre professional dance programs and made works for dance companies and dance programs, directed operas and developed collaborative projects with musicians and other artists. He is a producer, presenter, director, teacher, choreographer and mentor.
Mark Foehringer is an internationally active choreographer and dance educator who has directed his San Francisco based contemporary dance organization, Mark Foehringer Dance Project|SF(MFDP|SF), since 1996. Foehringer choreographed and taught throughout the US and abroad, working with organizations that include: Rambert School of Contemporary Dance in London, Ballet Nacional del Peru, Ballet San Marcos of Lima and Cisne Negro Dance Company of Brazil. Outside of Northern California and the San Francisco Bay Area, Foehringer's company has been seen in Aruba 1997, NYC 1999, 2000, 2005 and 2012, Peru 2007,2008 and 2012 as part of the US Public Diplomacy Program.
In 2013, Foehringer launched Conservatory for Contemporary Dance Arts, a training and mentoring program for dancers ages 14-21. CCDA has as its primary focus the preparation of dancers for university dance programs or professional dance opportunities.
Foehringer received two Fulbright Scholar Grants to lecture and set work in Peru in 2007 and 2012. He returned to Peru in 2013 on Specialist Grant through Council of International Exchange for Scholars. Beyond work for dance companies and university programs, Foehringer has worked with Festival Opera, West Bay Opera, San Francisco Conservatory of Music and Children's Creativity Museum of San Francisco. Foehringer directed opera productions of Britten's "A Midsummer Night's Dream", Gounod's Faust, Donizetti's "Lucia di Lammermoor" and most recently Verdi's "La Traviata" for Festival Opera of Walnut Creek.
From 1996 to 2006, Foehringer served as artistic director and resident choreographer for Western Ballet in Mountain View, CA.
Foehringer grew up and started dancing in Sao Paulo, Brazil. He went on to train and perform in New York, London and San Francisco.  In 1977, he joined Cisne Negro Dance Company with whom he toured throughout South America and Europe for 10 years.
About CCDA
CCDA
is preparing the next generation of dancers, choreographers and dance educators through instruction, performance experience and one on one mentoring. This program is designed to prepare dancers ages 13-21 for their next step in their dance plan.Under the direction of Mark Foehringer and his faculty of world class teachers, the young dancers of Conservatory for Contemporary Dance Arts experience the work of 13 guest artists each year and perform works by some of the most sought after choreographers in the Bay Area and nationally. Our program prepares each dancer for their next steps with dance, be it a university dance program, a conservatory program or a professional dance experience.