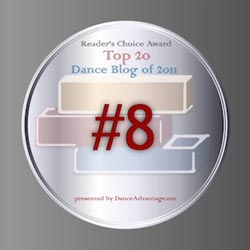 Sorry! I never got around to posting the results of Dance Advantage's 2011Best Dance Blog Contest. I came in 8th. Not too bad, but not second like last year. I just couldn't keep up. There were some blogs with hundreds of votes.
Anyway, thanks to those of you who helped get the blog nominated and who then went back and voted. I really appreciate the support. You make it worthwhile for me to keep on blogging.
And one of these days I will get around to writing the book that is at the foundation of this blog…I promise.