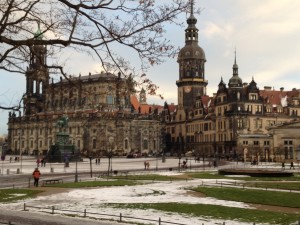 Seeing Julian dance in the Nutcracker was, of course, a highlight of my trip to Germany. However, spending time with Julian and seeing a bit of his daily life was another one–and actually one of the things I was most looking forward to about my trip to see him.
While I in Germany I spent two days in Berlin where my husband had business. Then we took a 2 ½ hour bus trip down to Dresden to see Julian. He picked us up at the bus station. We arrived late—after Julian's performance that night. It was cold and the sidewalks and streets were slushy. We rolled our suitcases through the dark streets. We spent the next two days walking on the same slushy streets everywhere we went, as we did in Berlin. You'd think with all that snow the German's would put down salt so people wouldn't slip and fall. Nope. They use some sort of gravel or dirt.
The next morning we were able to watch Julian take company class. I also watched company class on two other mornings after my husband went back to Berlin. (He stayed just through the weekend, but I stayed in Dresden for four days.) The first time we watched, the class was small. I can't remember why, but not as many company members were required to be there. There was a matinee that day. Some of the dancers already had on makeup, like Julian, and had their hair done, etc. The second time I watched, the class was a bit bigger, and the third time it was almost full—plus there were a few people auditioning as well.
I was surprised and pleased to discover I was able to be in the facility with not much "to do." At San Francisco Ballet, for example, I'd never be able to just walk in with my son and wander down the hall and into the room to watch class with no one paying any attention to me. (There is a small staircase to a balcony where guests can watch class.) There you have to sign in and be escorted to a studio. Julian got upset at me at one point for texting him while he was in class; I had no idea he was in class. He told me I could have walked down the hall and discovered this fact for myself. I would have never dreamed of doing so!
Company classes were interesting to watch but not much different than any other ballet class I've seen before. Of course, the level of dance was higher. It was fun to see so many dancers from so many different countries—United States, Italy, Russia, Germany (just 2), Japan, Czechoslovakia, Canada, England, Spain, France—and that's part of what makes the company so unique, I think. And it was just a bit thrilling to see my dancin' boy in class with all those professional ballet dancers.
In general, Julian seems to be doing well at Semperoper Ballett. He loves the company classes and enjoys the ballet masters at Semperoper. He feels he fits in well with the company members and is happy dancing in the company and, of course with the company in performances. (He also has friends in the company and in Dresden.) He prefers to be in the company classes, but when he isn't performing with the company he is relegated to Palucca University of Dance. The last time this will happen is from mid-January through March. During this period he will not only take classes at Palucca but also rehearse for the final school show, in which he has soloist role. Julian gave me a tour of Palucca—a really beautiful, modern facility—and met his ballet teacher.
The move to Germany to dance was a good one, Julian believes. He is learning a lot when dancing with the company and from the other company members–some who have taken him under their wing a bit. He thinks dancing in Europe in general is a good thing, and he hopes to stay there for a while longer–hopefully with Semperoper.
In January, Semperoper Ballett's artistic director, Aaron S. Watkins, will tell Julian if he (or any of the apprentices), have a full corps spot in the company or if they should go out and audition. January and February are the months when apprentices audition around Europe. Julian could also audition in the States at that time if need be. He plans to audition if necessary, but, as mentioned, he'd like to stay with Semperoper Ballett if possible.
Getting a spot in the company is not only dependent upon Julian's performance. There must be an open spot. Even if there are two corps spots open, as the apprentices were told at one point earlier this season, Aaron could actually combine these to create a soloist spot, for example; that would mean no corps spots would be available for next year.
One of the young men who auditioned for Semperoper while I was there was told no spots were open at this time. Whether that means they are spoken for (apprentices have been chosen for any open spots), the open spots have been combined, or contracts have been offered to other dancers, there is no way to know. I guess we'll find out in January.
I had the good luck of meeting Aaron on my last day there. He came upstairs where I was watching class, shook my hand and we had a chance to briefly chat.
I loved Dresden. I spent part of a day walking around with my husband and Julian and some time working in the local Starbucks. I ate at the Christmas Market and shopped there for a few gifts. The city is lovely—much nicer than Berlin. It's quaint and pretty, although the area where we stayed looked a bit dingy. I'm told it's kind of the hipster area, though.
I didn't get to see the dorm building where Julian stays. I did get to experience some of his life…Kaffee mit Milch and Schokolade Brötchen  for breakfast each day (coffee with milk and a bread roll filled with chocolate chips). We stopped into some of the other places he likes to eat–lots of pizza and calzones, not surprisingly. I met a few of his friends both at Semperoper and at the apartment…and sat and talked with him as he sipped wine. (He also drank Gluwein, a fuity wine, with his Dad at the Christmas Mart.)
Life's a lot different than at home…Not the best diet. Drinking legally. Not taking vitamins regularly. He's grown up in lots of ways very fast. Does that means he now handles all his "stuff"? Well…he's much better. And he likes Mom interfering even less…
And I just let go as much as I can. It's his life now.
Overall, the trip was a success—except that my husband never got to see Julian perform the Russian dance. (We're hoping maybe he'll get to see a recording at some point.) I went back to Berlin for a day and a half, during which I mostly worked. I did a tad bit more sightseeing, but to be honest, the winter weather in Germany is not conducive to doing much. It's always grey, cold and damp—as in really grey. And it gets dark really early. I couldn't live there.
Julian has two weeks off, and he's spending them romping around Berlin, Milan, Florence, and Paris with his sister. We've seen photos. They are having fun. He deserves some time off. His body could use the break. I'll write about body workers, etc., in another post.
Happy New Year! We will see what 2013 brings.