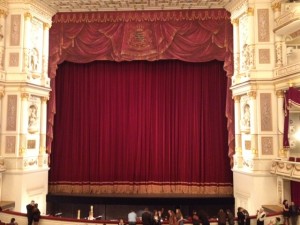 No matter how many times the parent of a dancer sees the Nutcracker, it's always different when your own child performs in it. This year, I watched with a particular excitement as my son took the stage not necessarily in the largest role he's ever danced in this traditional holiday ballet but in his most significant one–a professional role in the Semperoper Ballett Nutcracker.
Two years ago Julian performed the grand pas de deux in the City Ballet School Nutcracker in San Francisco, CA. That was a huge role, which he later took on to YAGP for a first place regional win as well. I remember watching each performance so proudly and holding my breath at each lift.
In the past, I've seen him dance Fritz and the prince in the San Jose Dance Theater production in San Jose, CA. When he was quite young, he was in the party scene for Ballet San Jose in San Jose–a minor professional part.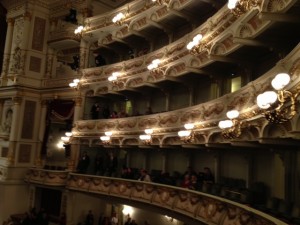 As the curtain came up in Dresden, Germany, at the beautiful Semperoper theater this past Tuesday, first I saw Julian in a small acting role. Nothing much…an urchin like vendor in a Christmas Fair booth. (Germany is known for it's Christmas fairs, and this gave the production a bit of a German feel.) A little later, I tried to make out which of many mice could possibly be Julian; ah, yes, the one there by the clock covering his eyes and acting afraid! I tried to follow him as he made his way around the stage, but it wasn't easy. All the mice looked alike. I think I saw him doing battle, rolling around a bit, and back by the clock again fighting with another mouse.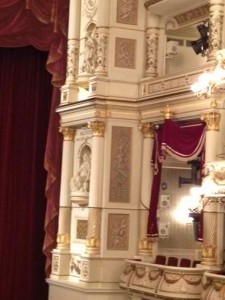 Then… the curtain rose for the second act, and I waited impatiently through the country dances—all beautifully performed until… Russian! I leaned forward in my seat watching intently as my son—the apprentice—took the stage. Perfect! And how thrilling to see him dancing a role I'm told has previously only danced by Semperoper Ballet soloists and coryphées. I would have never known he was just an apprentice by his dancing or stage presence, though I'm biased, but I don't think anyone else would have either.
The Russian dance is always one of the audience favorites, and it pleased the crowd as usual—and me in particular. Unfortunately, my husband was not there to see. He'd returned to Berlin to work two days earlier. We'd watched a performance on Saturday (I was tired and dozed a bit, I fear), but Julian had not danced the role of Russian then because he'd injured his back just a few days before. This was a huge disappointment for both of us but in particular for my husband.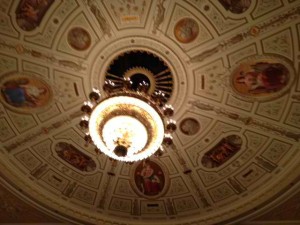 As for the Semperoper Nutcracker in general, the dancing was spectacular, as I expected it would be. I must admit I missed the dramatic choreography of the grand pas, which Julian performed previously (You can see it here; it's the second video on the page.)–I think I'll never be satisfied again unless I see that particular rendition. I loved the choreography of the Arabian dance, which I often find boring. I enjoyed getting to see Sarah Hay, a close friend of Julian's, perform Clara twice, and she did a spectacular job, in particular the second time I watched. Overall, I thoroughly enjoyed the ballet and would look forward to traveling to Dresden to see it again.
That said, I could probably live my whole life without ever seeing the Nutcracker again, but the thrill of sitting in Semperoper, that beautiful German opera house with it's ceiling painted with portraits of composers and sculptures lining the stage, and seeing my son—not even a full company member yet, dance as a professional could keep me coming back to see the show over and over again. And I hope to do so in years to come—and to see him in ever larger roles.
More on the rest of my trip in the next post…