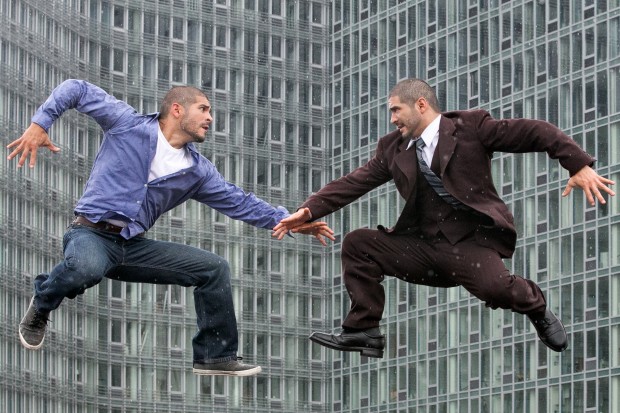 Freelance dancer.
Most young dancin' boys don't think about the freelance life as a career option. However, for some, this is a choice. For others it's a necessity—at least part of the year.
In the United States, the dance season is short. Most dancers must freelance during the eight to fourteen weeks the company is on break. Otherwise, they simply can't make ends meet.
What's it like to freelance, and how do you become a freelance dancer? I asked Edwin Olvera, a former dancer with Pilobolus Dance Theatre who currently works as a freelance dancer, to tell me about his career experiences.
Olvera has performed and taught around the globe. After attending UW-Milwaukee's Peck School of the Arts, he joined the world-renowned Pilobolus Dance Theatre, where he was an integral force in the choreographic and creation process over the course of ten years. During this time, he was featured on countless television shows and commercial advertisements including Sesame Street, Born to Dance, and the NFL Channel.
Olvera has collaborated with international artists Inbal Pinto and Basil Twist and has been featured in articles by both Dance and Dancer Magazine. In 2015, under the guidance of Olympic choreographers Gavin Robins and Leigh-Anne Vizer, Olvera served as a dance captain for a team of 150 performers within the 44th national Dubai Day celebration.
I think you'll find Olvera's candid answer, as well as his late dance start, interesting. Also, if you enjoy the photos, you might want to check out Pilobolus. It's a very different modern style that requires a strong and athletic dancer.
When and why did you start dancing?
I started at 21 dancing at UW-Milwaukee Peck School of the Arts when I began earning a BA in Dance.

The main reason I attended UWM was because of my twin brother, Roberto Olvera. Roberto was a professional modern dancer and now works as a personal trainer to A-list artist.

In the winter of 2001, Roberto danced on stage for one of UWM's winter concerts. I was so mesmerized by what he had done on stage with his body alongside fellow dancers that I knew then and there I had to go back to San Antonio, Texas, and fail out of the military program in which I was enrolled. I had planned to become a physical therapist assistant.

Failing was one of the hardest things I've ever had to do, because I was passing the year-long program and was transitioning over into the on-site practical phase. But I wholeheartedly believed my future would be in dance instead of a PT assistant. Boy I was right.
Did you have an interest in dance earlier in life?
When I was a sixteen, I would go out to the local nightclubs and dance with my other brothers and their girlfriends. We would do this just for fun. However, there were many times when I would ask myself if people could do this for a living. Not one person in my family was an artist. So I never thought it would be possible.

At that time I was clueless to traditional dance forms like modern and ballet or even the founding figures of dance. Most people in the nightclub would couple dance, grind or battle. I just wanted to learn how to move gracefully as a soloist with my own freestyle moves.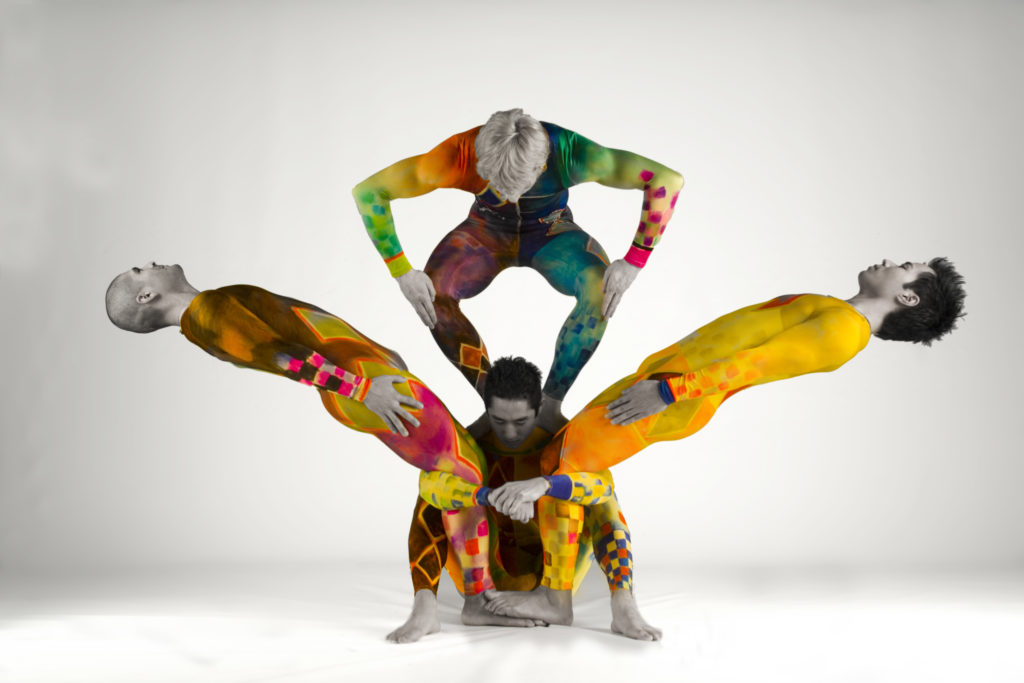 How did you land the job with Pilobolus?
I found out about Pilobolus in 2003 through my ballet teacher, Long Zhao. Long had auditioned for Pilobolus when he first came to America from China back in the early 1980's. However, he never received a position in the company and went on to a wonderful dance career.

Long trained Roberto and I for a physically demanding duet similar to Pilobolus' style. Our duet piece, "Zoom Out," got a lot of recognition for UWM and for Roberto and I because it made it to the ACDFA National Gala at Kennedy Center in Washington, DC.

After our success in DC, Long told us about an audition for Pilobolus in NYC. He said it was an opportunity not to be missed.

In the summer of 2004 we went to NYC and audition for Pilobolus. Prior to going, we were given the chance to interact with one of Pilobolus' newest company members, Andy Harro. Andy was also from Milwaukee and had joined the company less than six months prior to us meeting him.

Roberto and I asked him questions about the audition process and what the was company looking for. Andy said if we made our way to NYC, he would let us stay at his apartment.

There were 40 other amazing male dancers at the audition. After five days, Roberto and I made it to the last cut of four guys. Each eight-hour day consisted of improvisation, partnering and more. But we were not selected.

Six months later we again were invited to an audition. Again, we made it down to the last four guys, this time out of fifty other male dancers.

Yet again, we did not get the job.

In the summer of 2005, Roberto and I were invited once more to yet another audition for Pilobolus. To make a long story short, I received a job offer from the CEO of Pilobolus via a phone call on Roberto's phone. Although I was excited, my twin brother was torn.

The story gets better. In less than six months, I helped him get hired by the world-renowned modern dance troupe, Momix. Roberto danced three years professionally with them and then was hired through Pilobolus to help create the evening-length spectacular "Shadowland."
Were you interested in modern or contemporary work over classical dance?
Personally, I enjoy all styles of dance. After dancing professionally for the last 11 years, I find that I gravitate towards modern and contemporary mainly because I can relate to them.

I've been exposed to many classical dancers and admire their clean lines and royal presence both on and off stage. Over the last few years I've thought of taking classical ballet classes as an alternative for working out to help me lengthen my muscular physique.
What did working for Pilobolus teach you?
On a technical level, I learned how to do contact improvisation, physical theater, puppetry, and prop manipulation. As a freelancer for the company, I learned how to do program direction for their educational outreach programs, create and set choreography on their behalf, hire new talent for the company creative service project, audition new prospects for the main company, and be a dance captain.

On a professional level, I learned the importance of team building, creative problem solving, and how to be a great ambassador of the company. I also became aware of all of the administrative stuff required in the office for the dancers to enjoy their time on the road. I learned the basics of traveling logistics, company management, accounting, costume creation, and more.

Before I joined the company, I was deathly afraid of public speaking . After doing hundreds of Q & A's for over 5,000 different students, I feel I have become an expert at public speaking and talking on camera.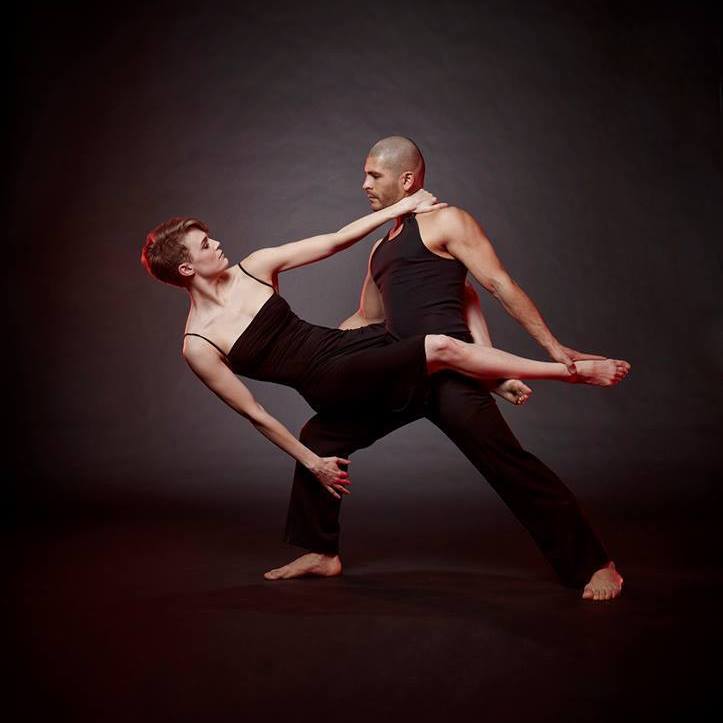 Why did you leave Pilobolus and at what age?
I left Pilobolus at the age of twenty-eight because my wife and I wanted to have kids. It is nearly impossible to do that when you're on the road nine months out of the year.

I also left because, in 2008, we were in an economic downturn and I did not want to be stranded in another country if the financial markets collapsed. The thought of not being able to return home to see my friends and family was too much to bear.
What attracted you to the freelance dance lifestyle?
I liked the ability to work with multiple dance companies in both for-profit and non-profit settings. Also, not having to worry if something was within the scope of Pilobolus was attractive.

Plus, I enjoy the simple fact of making my own schedule—the ability to work as much as I want or as little like.
What made you decide to become a freelance dancer?
After my three-year contract with Pilobolus ended, I was forced into it.

And I had to learn the hard way. At that time I was unaware of any professional resources that gave advice for the freelance artist.
What exactly does being a freelance dancer mean or what does this career look like? What activities do your days, weeks, months include?
Being a freelance dancer means you get paid for hire based off your artistic talents as a dancer. At times you may be hired as a substitute dancer, artistic consultant, choreographer, dance captain, and the job lasts only for a period of time within a year. Sometimes you get hired as a subcontractor and other times you may be hired as a part-time employee. Depending on the company or organization you might have temporary health care or at least access to workman's comp.

Since I have two young kids and lovely wife, my day seems a bit crazy! But my daily routine tends to stay the same.

I get up early in the morning to workout or do some type of movement routine to keep my body flexible and in shape for the next project. I spend some family time with my wife and kids.

Next, I head off to do administrative work for my small business, which provides dance and creative services. During this time, I reply to emails for current or future projects. I also look over my yearly wall calendar and notice the empty weeks of work and fill them with master classes, lectures, or weekend intensives. I also do research on dance festivals and dance colleges or dance companies to see is there is a way to collaborate with them.

In the evenings I do another round of family time before my kids go to bed, then spend time with my wife. Once everyone is sleeping, I spend at least and hour or two learning something new related to business and marketing. Or I just ready a good book.

Every month I am gone at least one to two weeks for work. I have made a commitment to my family that I will go on the road for no more than two weeks.

I attend at least two social functions per week to keep my dancer/artistic presence known within the creative community in Milwaukee. This means I go to luncheons, open gallery nights, and dance or theater shows. It's a great way to network with local companies or talent and book the next project(s) for the year.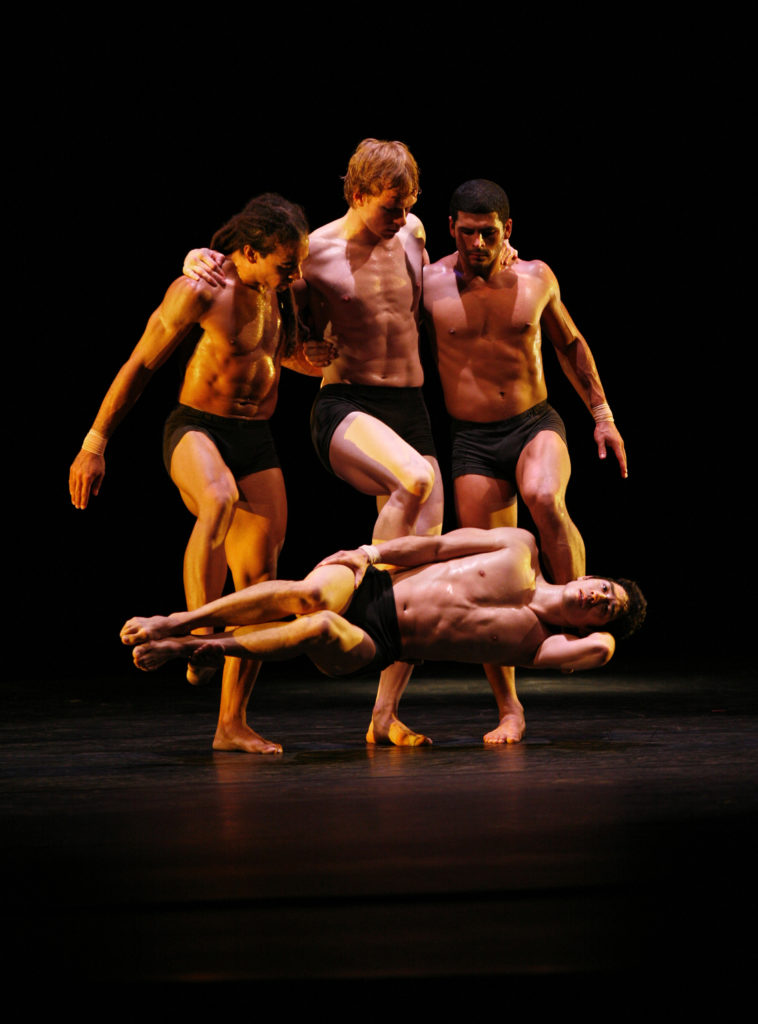 What type of dancer is cut out for freelance life?
Someone who is comfortable with uncertainty. There have been multiple times over the last 11 years when projects have fallen through the cracks, and I've had to adjust and take non-dancer paid jobs (back breaking factory work and more) to make sure my expenses were covered.

A freelance dancer in my opinion should be excited about networking and collaborating with people from all walks of life.
Can a dancer—or a freelance dancer—earn enough to support a family?
Yes, It is possible. The key thing is making sure to always have work coming in even when you are not doing something artistic.

My wife has a full time job, which is a source of income.

Also know your total monthly income and total monthly expenses to make sure that you're not overspending and can save for the future. Most dancers live their life without knowing the basics of finance.
You talk a lot about the business of dance. How much does a typical company dancer need to know about business?
As a dancer employee, make sure to understand your contact/letter of agreement. There maybe times when you are ask to work overtime or double time even though in the contract it clearly states you are required to have a day off, but you may be working to finish the final project.

Each organization's contract is different, so if you don't understand the terms make sure to find a lawyer who can help you understand them.

Most modern dance companies do not have a union, unlike ballet companies—even the ones that have been around for 40 years. So sad but true.
What five things have helped you succeed as a dancer?
Focus

Learning to work as a team

My interest in learning multiple languages

Being punctual

Scheduling my projects one to two years out instead of only focusing month per month.
What three tips do you have for male dancers—in general or for those who need or want to freelance? Keep in mind the dancers who work in the US and who might need to freelance for several months each year when the company's season ends.
Since male dancers are in high demand, take advantage of that.

Don't be afraid to tap into your network of friends, family members and former business professionals to find work. A lot of times artists are afraid of asking for possible work, and so the answer's always "no." If you reach out to people, things will open up for you.

If you're not able to take a project because of the time commitment or their budget, always supply an alternative—another dancer who can do the work for you so you don't leave the company empty-handed.
Anything you'd like to add?
We all hear this common phrase: "The dance world is small." It's true.

As dancers, we must be mindful of what we say and do around other artists. If you burn a bridge with someone or some company, be aware that people talk.

It's better to be respectful, timely and professional at all times.

Always make sure to document your work, whether it's through blogging or your website. Or have professional photos and videos taken of you doing your projects (before, during and after).

Also ask your past collaborators to give you a testimonial for your service and professionalism. Endorsements go a long way.

Finally, I would recommend highly having an up to date LinkedIn account because it's considered the new active resume.
To learn more about Edwin Olvera, visit www.edwinolvera.com.
You can watch his video reel here: https://youtu.be/637IN48XFOY