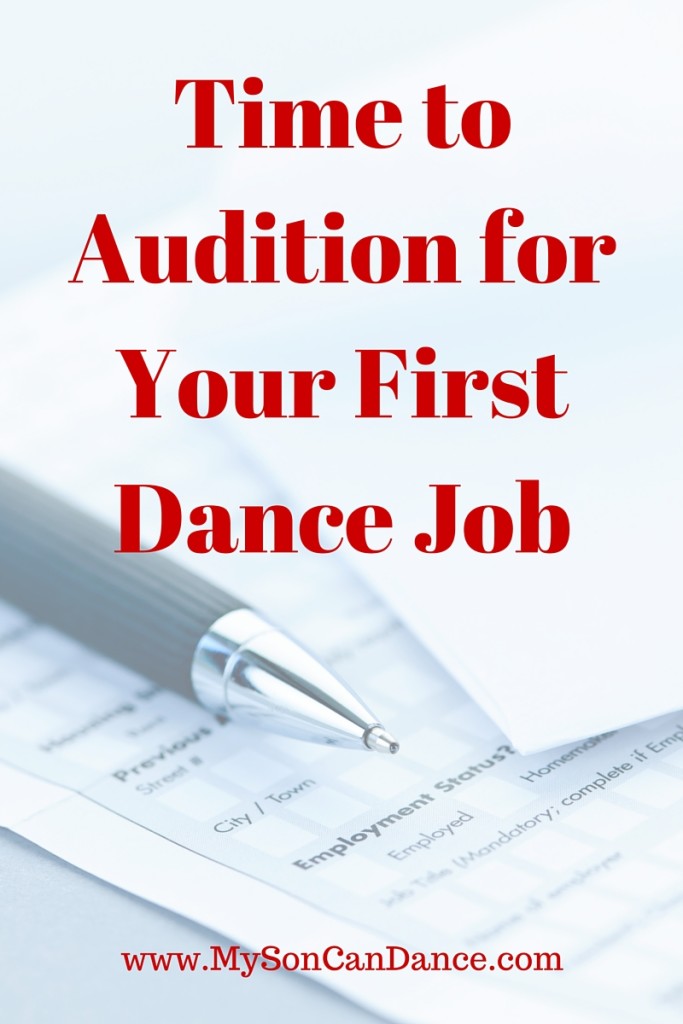 Young men who choose to dance have many opportunities and reasons to audition. They audition for summer intensives, for positions in companies, and for specific roles. When the time comes to audition for companies, hopefully, they've gotten some experience so they can put their best foot forward.
When Julian danced at Teen Dance Company (now the Conservatory for Contemporary Dance Arts in San Jose), he had the opportunity to learn to audition. The artistic director brought in many choreographers every year. Each time a new piece a choreographer created a piece, the dancers would audition for parts. This experience came in handy when he began auditioning for summer intensives and then for ballet companies.
Whether or not you—if you are a dancin' boy—or your son—if you are a dancin' boy's parent–has ever auditioned before, there are some things you need to know about auditioning for dance companies.
To get a bit more perspective on the audition process, I asked Aaron S. Watkin, artistic director at SemperOper Ballett in Dresden, Germany and Nikolai Kabaniaev, director of the boys program at City Ballet School in San Francisco, CA, to comment on the subject. Julian currently dances at SemperOper Ballett and studied at City Ballet School from age 16 to 17.
Audition Season
The audition season typically begins in late winter or early spring. However, some companies allow auditions at other times of the year, especially if they suddenly find themselves with an open position.
Cattle-Call vs. Private Auditions
Most company auditions are large open auditions, sometimes called "cattle calls." This means you (or your son) must audition with many other dancers, all of whom are trying to land one of just a few open spots in a company. This type of audition can prove stressful. You can't stand back and wait to be noticed, nor can you show off or push other dancers out of the way to get noticed.
In a few cases, it's possible to ask for a private audition. To do so, you travel to the company's location and "take company class" with the other company members. The ballet masters or mistresses and the artistic director watch you dance in class and decide if you are a good fit for the company.
Other companies have their own audition process. SemperOper Ballett, for example, used to have a cattle-call audition, but Watkin says, "We stopped that because there were 800 people one year, and I couldn't see half of them by the end. And I don't feel it's fair."
Now SemperOper Ballett uses a longer process. "You send in your CV, you're selected, and then we choose five people three times a week for three months to join in the company class," Watkin says. "I can see them with the dancers, and I can have a chance to speak with them and work with them afterwards if I'm interested."
Watkin, like many artistic directors, also travels to different schools to look for prospective company members. He saw Julian take a men's class at the School of American Ballet during audition season. No other audition was required; he received an offer on the spot.
Watkin recommends doing whatever possible to avoid the big auditions, and get invited to go and take the class by yourself. "If that doesn't work, then try to do a circuit through companies in an area, especially if you're coming from North America to Europe. You can maybe find a place to serve as your base. I have dancers ask me, 'Do you think I could take class here over the next few weeks? A few days here and there as I'm going in and out to other auditions?' A lot of companies won't let you come in. It's the one class for an audition, and that's it."
Do Your Research
Investigate what type of audition each company offers. This prepares you (or your son) for the experience.
Kabaniaev recommends doing extensive research on specific companies prior to auditioning. "Find out as much about companies as you can," he suggests. For instance, look at their repertoire, and determine if it is right for you. Do they perform more contemporary or classical work? Which do you prefer? Do they mostly do Balanchine, which you don't enjoy?
Even if you believe a specific company is not a good fit, auditioning might be a good idea. First, you get more experience auditioning. Second, you never know from where a job offer will come. "I think the most important thing for a young dancer is to get a job, have a place to take ballet class, have a place to rehearse, and be paid," says Watkin. "Especially if you're in Europe, then you can take the trains and buses all around and check out other companies.
"That's what I did," he relates. "I came to England first. I wasn't set on going to English National Ballet, but I went and then I took my time. I looked all over Europe for two years; I found the Dutch National Ballet, and I went for seven years.
"But I hear a lot of young dancers saying, 'Oh, wait. I'm not going to go there, because I don't quite like that. Someone said that company wasn't good.' Keep the information you're hearing from people in the back of your head just to be aware of certain things, but go see things with your own eyes," continues Watkin. "You might end up liking the place that you didn't think you would more than the one you thought you wanted most."
As part of your research, ask that all-important question: Who do you know? Or who do your dance teachers know?
"Do you have any connections in a particular company?" queried Kabaniaev. If so, this will make getting an audition—and possibly being seen in a larger audition setting—easier.
Kabaniaev also recommends discussing your audition options with your teachers. I remember well the advice given to Julian and other dancers by the teachers he had at City Ballet School and their willingness to reach out to their connections, when possible. Even at the School of American Ballet, we experienced the power of connections when they were used to land Julian a few auditions.
Also, research a company's requirements. Each company's artistic director looks for something different. He could look for dancers of a certain height, body type, or with a certain skill set. She might only have openings for women or for principle dancers.
Know what type of dance skills a company requires as well. To seek a job with a European ballet company, you might need more than just classical ballet skills, though. Watkin reports, "For Europe, you'd have to have much stronger contemporary technique or experience." SemperOper also does Balanchine, Neoclassical, and modern.
Beyond that, Kabaniaev says, "Remember that companies are looking for dancers who are well trained, well disciplined, passionate about their dance, versatile, have a good work ethic, work well with others, and have a good overall attitude."
Audition Tips
If you still feel you need a bit of help preparing for auditions, here are three tips from Kabaniaev:
Show that you are interested in working for that particular company. Be well versed in each company for which you audition.
Show that you are confident in yourself as a dancer.
Show that you are no longer a student, but that you are someone ready to join the workforce as a dancer.
The auditioning process can feel stressful—or it can feel exciting and fun. If you make it the latter, you'll enjoy the process and end up with more offers.
Remember that you are auditioning for—and applying for—a job. So be professional.
Finally, keep in mind that your first job in a dance company probably won't be the last. Look for opportunities to grow and to perform. Sometimes a job in a company or with an artistic director who is willing and eager to teach you and allow you to dance  roles you might not get to dance elsewhere proves a better choice than your "dream company," where you could get stuck in the corps for years. The experience you gain will help when it comes time to audition for your next job.