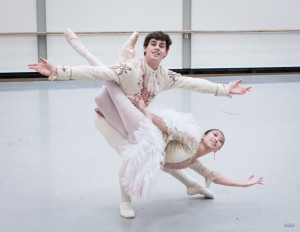 Some of you may have heard that Ballet San Jose is struggling to keep its doors open. That means the school is also at risk. Only generous donations from those who appreciate the arts or who want to ensure their children can attend a premier ballet school in Silicon Valley will save the dancers' jobs and the students' classes.
When Julian first decided to focus more seriously on ballet, he left his performance team and classes at Dance Attack in Los Gatos and entered the Ballet San Jose School. At that time, it was not affiliated with American Ballet Theatre. Although he continued to study jazz, tap and break dancing, he spent the majority of his time doing ballet. Ballet San Jose was where he attended his first summer intensive. This was the place where I was first told he had talent—that he should not be allowed to quit.
For this reason, this company holds a dear spot in my heart. We still recognize many of the dancers in the company even if most of the teachers are gone. Julian performed with these professionals in The Nutcracker, Firebird, Blue Suede Shoes, and other performances when he was still very young.
Every step in a dancer's career moves him closer to his dream of entering a professional company. Julian would not be where he is today, dancing professionally in Europe, if he hadn't spent time at Ballet San Jose School and on the Center for Performing Arts stage with the company.
I was touched to see the video below of local tech professionals showing off their best ballet moves to support the company and its fund drive. (This article talks about the video and features another made by Ballet San Jose students.) I hope it will inspire you to donate–and even to send a video of your best ballet move along. You can donate by clicking here.
Photo: Jia Sun & Julian Lacey  courtesy of Ian Whalen.