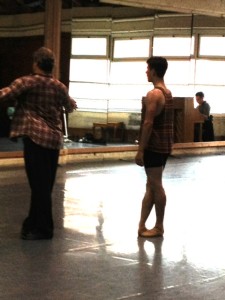 Julian returned in mid July from Dresden, Germany, for the first time in a year. He was on his summer break—one month off—from Semperoper Ballett. During that time he transitioned from apprentice to a member of the corps de ballet.
He returned to California not only as a 19-year-old with a ballet contract he had signed but also as one who had rented his own apartment (by himself speaking German with the realtor), handled his visa, and managed to navigate a whole year in Europe and to land that job as a professional dancer.
What Happens When Your Son Goes off to Europe
My husband took Julian to Dresden, Germany a year ago and got him settled. He'd never been to Europe. He and his sister had flown together without parents once in the States.
Being in Europe was an adjustment. As with everything in life, living in Germany was a learning experience—a growth experience. But Julian enjoys living in Europe and calls Dresden "home." His friends are there. His life is there. That's as it should be. I wouldn't want it any other way.
My son returned to the States by himself, flying first to New York, where he took some ballet classes and visited friends, then flew to Chicago to see his older brother (my step-son), and then flew home. No problems.
Cutting the Apron Strings
It felt difficult to cut the apron strings when Julian left for Germany last summer. My husband and I had helped him so much in so many ways over the years. But he wanted to do everything himself—even if he made mistakes.
He never had internet in his dorm room. Then his computer was stolen. He had to communicate via iPhone.
This ended up being a good thing in some ways. It allowed me to let go as much as possible. That's not to say I didn't worry, but there's only so much you can do for your son when he is "across the pond." So, not hearing, not being involved, not knowing was a blessing of sorts, albeit hard to deal with most of the time.
And that freedom allows a dancin' son to grow, to learn, to experience, to try things—without parental involvement. That changed and changes him and our relationship for the better.
Returning Home
Julian came home older, wiser, more capable of managing his own life. He had matured, grown up.
Now, if he'd gone off to college, I might be saying the same thing. But I think going off to Europe to dance—to work—is a different experience entirely.
I get asked often if I recommend dancin' boys skip college or that they go to Europe to dance. Here's what I'd say:
Ballet boys typically dance right after high school because their career is short.
Europe is an eye-opening, horizon-expanding experience for anyone; everyone should go to Europe.
Europeans place a much higher value on dance as an art form, and on dancers, than Americans.
In Europe, dancers are seen as celebrities.
In Europe, the dance season is much longer, so dancers tend to get paid more.
Your son will have a robust, international experience dancing in Europe than in the states.
I hate that I can't see Julian dance on a regular basis, but I'm thrilled that he is having all the experiences afforded by living and working in Europe. They are molding him as a person and a man. And I see that only as a positive thing.
I was sorry to see him leave, but I can't wait to see him again in December—and to see who he continues to become.
Photo: Julian took an open class at City Ballet School in San Francisco just before leaving for Germany. It was the first time in 3 weeks that he had danced. He was thrilled to have Yuri Posokhov as his instructor–and to get a little one-on-one time with him after class. Here is a video I took at the very end of class when he was exhausted…he didn't like it much, but I thought I'd post it anyway.