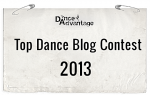 Thanks to those of you who commented on my post asking for feedback on the blog to help me get to the next level of the Top Dance Blog contest–and improve this blog over the next year. I really appreciate it. I didn't respond because I didn't want to confuse the judges about what comments where from readers and which were not. I will take all your suggestions into account as I plan content.
My Son Can Dance did, indeed, move forward to the next round of the contest. Now I need your votes. You can cast a vote by clicking here and then voting for my blog in the "Career Dancer" category (where I have a small chance of placing) and in "Your Favorite Dance Blog" category as well. I really appreciate you taking the time to vote. :~)

Also, I've been getting a lot of questions about summer dance intensives. I will try to find time to write a post about this soon. In the meantime, I have updated The Summer Dance Intensive Handbook: How to Choose the Best Program for Your Child and Help Your Dancer Get the Most Out of the Experience, which is for dancin' boys and girls. It has a complete chapter on the ABT intensive, but now makes reference to SAB and SFB as well and has a bit of information on how these intensives can lead to invitations to year-round residential ballet programs. It has a ton of useful tips from ballet great Rasta Thomas as well as a nutrition expert. It's a great guide for choosing an intensive and helping your dancin' boy get the most out of it–and stay healthy.
Plus, I have lowered the price of the Handbook to $2.99 (from $7.99). If you purchase it from Smashwords.com, you can save an additional 20% by using this Valentine's Day coupon, which is good from now until Feb. 15.
The Summer Dance Intensive Handbook
Promotional price: $2.39
Coupon Code: TB69Z
Expires: February 15, 2013
You can also purchase it at Amazon.
If you have purchased the Handbook in the past, or you purchase one now, I'd love it if you would leave a (good) review either one Smashwords or on Amazon. It helps me sell more copies.
Last, but not least, I am sorry to say that I will not be sharing much news at all about Julian here. Big news, yes. While I had an interview post with him prepared, he has asked me to keep him "off the blog" because he is involved in actual performances at Semperoper. As I've said in the past, as a professional dancer, he must conduct himself as one…and I must treat him as one. I would need to ask permission to interview any other professional dancer or discuss his roles, etc. So, until further notice, you will not hear much about him here… :~(