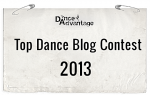 It's that time of year again…time for the Dance Advantage Top Dance Blog contest. However, I simply don't have the time or the desire to do a ton of promotion–basically asking over and over again–to get tons of comments here on the blog and then votes over at the Dance Advantage site during later rounds (should I qualify). That said, I am entering the contest. Why? Winning or placing is always a great honor and is good for readership of this blog. The more readers I have, the more dancin' boys and parents I can reach.
Plus, entering offers me an opportunity to get feedback from my readers.
Here's the thing: I'm going to tell you how to help me win the contest–or at least get through the first stage. Then I'm going to ask you to do something of even more value to me.
To get to the voting stage of the contest (stage two), I need lots of comments. That means YOU HAVE TO COMMENT ON THIS BLOG POST. But I don't want you to just comment and tell  me why you read this blog and how much you love it, although that's what the contest ask for. Anyone can get comments like that. Here's where the value part comes in. While those types of comments are nice for my ego, what would help me more are comments that tell me what you'd like to read about here on the blog. So I'd like you to leave me comments below about such things as:
the issues that concern you
topics you'd like me to discuss
interviews you might want me to conduct
subjects that would help you help your son (if you are a parent)
subjects that would help you succeed as a dancer (if you are a dancer)
subjects that would help you bring boys in to your studio or teach boys more effectively (if you are a studio owner)
Of course, the more comments you leave, the more I'll have to write about–especially since I can't write too much about Julian these days. And, the more comments you leave, the higher likelihood I have of getting into the second round of the Dance Advantage contest. If I do get to the second stage (or the third), I will, of course, tell you, so you can vote. (My competitive nature will likely kick in, but last year there were studios involved and I couldn't compete with their engagement level.)
So, go for it! Comment away on this post and tell me what you'd like me to write about over the next year or so. And include those words of praise as well, if you like. :~)