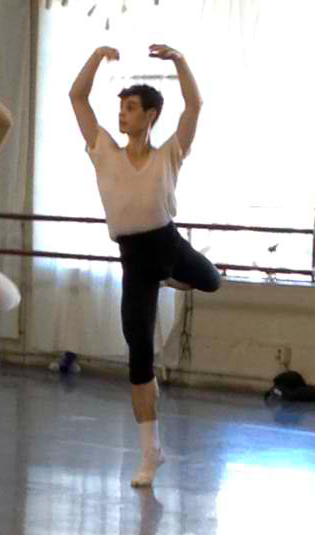 It's been over a month since I posted Wilhelm Burmann Talks About How Boys Can Succeed as Dancers (Part 1)—or anything else here on this blog. I apologize. My life has been crazy. You'd think it would be calm and simple without my dancin' boy at home. Life works in mysterious ways, and just as he left for The School of American Ballet in the Fall of 2011 my career picked up and has continued to escalate (in good ways). It's kept me more than a bit busy, to say the least. (Thank goodness I don't have to do that drive to San Francisco every day…how the heck would I do it?)
Anyway, since I can tell you nothing about the teachers Julian has in Dresden—although he has been spending a lot of time at Palucca University of Dance(the school associated with Semperoper Ballett)—I can continue to give you more insight into Willy Burmann's views on dance, male dancers, and succeeding in the world of dance. To accomplish that goal, at long last is part 2 of my interview. (There will be at least on more part forthcoming.)  To give you just a little background on Willy, he danced with New York City Ballet for four years, was a principal with Frankfurt Ballet and Grand Theatre du Genève (for whom he was also Ballet Master), was a principal at Stuttgart Ballet, and was Ballet Master for Washington Ballet and Ballet du Nord besides has personally coaching many of the biggest names in American Ballet. For a full bio, find Willy's bio at the conclusion of this post.
If you had the chance to tell a room full of young, aspiring male dancers one thing they should do to succeed as ballet dancers, what would you tell them?
Never forget why they're dancing, never forget why they went into it. If it wasn't an inspiration, they will always have a problem. If they look at it like a job or just because someone else is doing it and they want to do it too, it's not going to work. To me, there's more to it than just doing beautiful steps. You have seen David Hallberg. When David does a pirouette—when I have him demonstrate in class, he will never be satisfied no matter how he does it. It's not good enough for him.
It's not good enough for him, but is it good enough for you?
For him….Just because he can do any old turns, why not do the most incredible thing? I think it's a pride that you have to have, at all times, whether you're doing beautiful things or you're falling down. Even when you go into company classes sometimes, you look around and the bodies are nice, but they're sort of empty shells. There are the ones that hold themselves and feel that they're doing something really special. You know, just because more and more people do it, doesn't make it not special. And of course, the directors and teachers have to help to make young people understand that we are doing something that not everybody can do.
Not ever young male dancer gets to dance at The School of American Ballet, Jacqueline Kennedy Onassis School of Ballet or San Francisco Ballet School. For those ballet boys who aren't with a large ballet school, what would you tell them to look for in a ballet school or a teacher?
It's very hard to leave it up to a young individual to decide. You have to find someone that you don't have to like, but you see their work and you respect their work—someone you can learn something from that you cannot learn from someone you like. To me that is the most important thing.
In this country especially, either you like someone or you don't like someone, and then you're afraid of someone and respect will never cross their mind. Respect is connected to young people today with fear, and it shouldn't be. You can choose somebody, you can have private lessons, and this and that, but you have to make the right choice, and sometimes people make the wrong choice. They realize it, but then you have to, no matter how much you like that person, make a break if you want to make a career.
It's the same thing with a teacher. If a teacher has a private student and it doesn't go anywhere, it's the teacher's duty to tell the student, this is not going to work; you have to find someone else. They may say have to say you have no talent, but that's not the point; sometimes people bloom with a different teacher. Or they hear [corrections] in a certain way than other people have told them before, and when suddenly it's phrased differently it all makes sense. And they're growing up, too.
Do you think it's necessary for male ballet dancers to attend a large or prestigious ballet school to succeed, or could they be doing it somewhere in some Podunk place?
There are some people who go into big schools and don't make it, and some people who come out of small schools and they do make it, so I cannot really say. We would have to do a real survey to be sure. It is still really up to the individual and up to the directors that like the individual people.
And sometimes directors like certain types. No matter how good you are, you will never get in. It's a good thing that now people can go to Europe, because there's an opera house in every city. It's sort of stupid just to hang around in New York and bang your head against the wall and do a little group performance one week here, and then two months later or five months later; it just doesn't do. Taking classes is not the answer, it's performing.
What makes the difference between a principle, a soloist and a core member? What separates a great dancer from the more average dancer?
A lot has to do with ability, being able to do more than a corps ballet person is doing. Then, on the other hand, if we didn't have core ballet, we wouldn't have companies. There are some people who know they have talent, but they can only go that far, and they're very happy with it. Then some people try to be very ambitious, and they realize they cannot.
Let's say we're talking about a big company. The dancer is ambitious, and he's pushing and he's not getting anywhere. Then you really have to have the guts to leave and try somewhere else. A lot of times things have worked out very well for other people when they left, and sometimes people just give up. Now everybody has the opportunity to go to school, so people who are not dancers are not totally out.
Do you think it's a good idea for boys to go to college at the same time as pursuing a ballet career—in case they need that Plan B?
I have a big problem with that. I'm all for education because I was not educated. There was no time, no money, in my time, like during the war and after the war. But to me, if you're in a school and you have three classes a day or two classes a day and variations and all that, and then you join a company and you have an hour class with eighty people, and you have to learn five ballets—every hour a different ballet, your technique has to go down. There's no time for technique.  On top of all that, you have homework to do. You have to study.
Some people make it. It's the individual; each human being is very different. But in general to me it would be a good idea to establish yourself in a company when you're eighteen for at least two years, to know your work, your choreography, and then go to school.
You see, it's a double whammy to go to class, do rehearsals, study in between…You see, you don't have that time if you're in a professional company. Then it's all these gadgets—they're on their iPod, and they have to communicate with the world. I don't know why, but there's so much time put onto other things, but you actually physically need to progress or keep in some kind of shape.
So they don't have time or training once in a company?
Most of the time, when they join big companies, all of that training is taken away from them, and then comes performing on top of it all. They're young and inexperienced; they're kids really. There's no growing. Like I said, some people do very well, but it's like the individual has to do it. And then people hurt themselves, just because they are not really physically trained.
About Wilhelm Burmann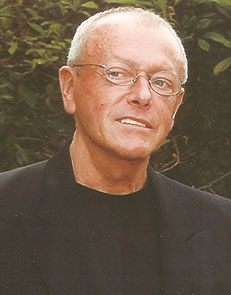 Wilhelm Burmann danced with New York City Ballet for four years, was a Principal Dancer for Frankfurt Ballet and Grand Theatre du Genève for whom he was also Ballet Master. He was a Principal at Stuttgart Ballet and danced for many other companies including Pennsylvania Ballet and New Jersey Ballet.
He has also been Ballet Master for Washington Ballet and Ballet du Nord and has personally coached many of the biggest names in American Ballet. Besides being on the faculty of Steps he has also taught on faculty at the Melissa Hayden School of Ballet, Harkness Ballet School and Ballet Arts in New York. He is a guest faculty member for a host of companies including American Ballet Theater, New York City Ballet, Paris Opera Ballet, Milan's La Scala, and Australian Ballet to name but a few. The University of Iowa and Skidmore College's Saratoga Program also benefit from their association with Wilhelm Burmann.