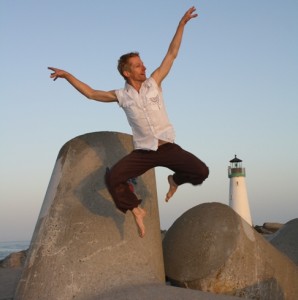 Recently I learned about an interesting dance/film project I wanted to support here on the blog. However, with everything going on with my book and Julian leaving for Germany, this blog post became delayed. I'm publishing this today—with just 34 hours left—in the hope that you will consider contributing while there is still time.
Project 52 is the title for Daniel Mollner's year-long dance/film project.  Creating an original 3-5 minute video every week for a year, Daniel has embarked on an artistic and creative marathon. Hundreds of artists, dancers, and technicians will collaborate with Daniel to produce 52 short films in 52 consecutive weeks. He started January 1st, 2012. He is trying to raise money for this project with an Indiegogo campaign as well. You can learn more about that and how to contribute here: http://www.indiegogo.com/danielmollner It's really simple!
Daniel brings his two biggest passions together in 2012 to create Project 52.  He's been dancing for years, but never had the courage to call himself a dancer.  He's been creating films since 1987, but never had the courage to call himself a filmmaker.
After winning the grand prize at the 2009 Freiburg Festival for his short dance film "What If" he has been absolutely on fire about combining film and dance. He says, "I believe in the power of dance.  It transforms us.  It makes us healthier, happier, and more connected.  We learn to trust our instincts, reflexes, and intuitions.  I believe in the power of film.  It inspires us.  It educates, entertains, and unites us.  We make sense of our common experience and share our visions for the future through the storytelling that takes place on the screen."
I interviewed Daniel on a variety of topics related to dance and, of course, boys/men and dance. Film, and photography, provides a viable career for a dancer to transition into–something to consider. Also check out his bio to see his unconventional dance path.
You say you only recently embraced being a dancer. Why?
At 46 years of age, just two years ago and in the midst of a conversation with two friends, I blurted "I am a dancer!" They asked me to say it again, louder than the first time.  I did and began sobbing uncontrollably. Though I'd been dancing for years, I had never had the courage to call myself a dancer.  Fears of being judged or discouraged, uncertainties about what that meant and how I could support myself or a family, and long-held beliefs about who I was and what my life was supposed to look like all held me back for decades.
What obstacles made it difficult for you to see yourself as a dancer or to become a dancer? How did you overcome them?
To finally own my identity as a dancer, I did not overcome anything…I was profoundly overcome by something.  The truth.  My truth.  Holding back was no longer an option if I was to remain sane, happy, and healthy.  Oh,and I got another big boost by checking the Life Clock and seeing that it read "You are 46 years of age, Daniel. Do you want to keep putting this off?"
As a film maker, what do you see artistically in the male dancer that you don't in female dancers? Anything?
I've completed 26 films so far in my year-long dance for film project. Artistically speaking, I have not seen anything that is inherently tied to gender. I know there are societal/cultural biases that want to perpetuate these biological distinctions, and I often play with those notions to ask important questions about access and opportunity.
As for shirts off and other displays of the miraculous, gorgeous, and infinitely intriguing human body, I think most folks want to see both male and female dancers unclothed to varying degrees.  
Was there a reason you combined film and dance? Has that helped your dance in any way?
One reason is simply that I couldn't devote myself to just one of my loves and exclude the other!  I have a degree in film/television and needed to continue pursuing my passion as a filmmaker.  And by so doing, I am able to share my art as a dancer in ways that transcend the limitations of a live dance performance.  A nearly unlimited number of people can watch my dance films for years (even after I am dead!) on the internet.  Wow, what a new and profound era for artists of all kinds, but especially for dancers!
Is there any advice you would give young male dancers to help them see their dance as art, as a chance to put art into motion?
Take time to consider what you are embodying when you dance.  What are you doing and why are you doing it? Trust that on a core level you are drawn to dance for a reason. For me, I know that my dance is art that I put into motion as a form of meaningful communication…communication that is ultimately a useful contribution to the human condition. I dance because it feels good and because I want to give something useful back to Life.

What tips would you give to young male dancers wanting to pursue careers as professional dancers? Do you see film as a viable career for dancers?
Let go of any preconceived notion of what a "professional dancer" is.  Follow your heart, continue to develop your instrument, keep sharing your creations, and generate situations in which money is channeled to support you in doing that!  I believe we are all able to custom design "careers" and be prosperous in whatever way we choose…if we will just embrace life and say "Yes!" to that which we truly love.
About Daniel Mollner
Although I have taken many classes over the years, studied and trained with various teachers for several months (or years in one case), I don't have a traditional dance bio to offer you.  My biggest areas of growth as a dancer have all come from self-exploration and improvisation in a wide variety of movement settings.  In terms of formal teachings and trainings, I attribute the most growth to my years spent studying with Frey Faust, founder of the Axis Syllabus Movement Principles.  Body research in the area of Contact Improvisation has also contributed greatly to my development as facilitated by Julie Oak, Sue Stuart, Karl Frost, Martin Keough, Ray Chung, Carolyn Stuart, and Scott Wells.  If this seems unusual or unorthodox as a dance bio, it's likely due to the fact that I followed my own unique path to dance (which has always been my way with most things, I suppose.)
Although I've been dancing and performing for years, I never really had the courage to call myself a dancer. That's changed recently… thankfully. I am fully stepping into that identity with this project! I also have been making films since graduating California Institute of the Arts in 1987. But that too has been something I have not fully embraced until the last few years. My short dance film "What If" won the grand prize at the 2009 Frieburg Festival. Since then I have been absolutely on fire about combining film and dance.
You can go to Daniel's website and subscribe to his newsletter to receive one original dance video each week for the rest of the year.
 Project 52
{Embrace Life}
52 original dance videos in 2012
danielmollner.com