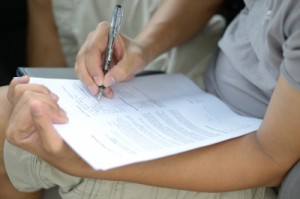 It's official. My dancin' boy is a professional dancer! Really.
The  contract came in the mail–in German–from Semperoper Ballett. We put it through a translator online. Julian signed the original copy, which had all the official signatures on it already. He took it to the post office and put it in the mail. Done.
The day before he mailed the contract, July 4th, my husband when to the Semperoper Ballett website and found an announcement of the new apprentices. Julian's name was there. And…he is now listed as part of the company under apprentices; you can find him here. No photo yet. Maybe they will take one while he is there.
He applied for student housing. He is studying German using Rosetta Stone. He seems to have gotten his body back in some decent shape after two weeks off and several chiropractic visits. He has some massage scheduled.
Julian found out that he will get a flat monthly salary rather than pay-per-performance. Yay! Not much, but something. Because apprentices have a school affiliation as well through Palucca Hochschule für Tanz Dresden, he also was awarded a scholarship. Double yay! He may have enough to live on. Wouldn't that be lovely? We won't have to support him? He has student insurance, too. Wowie.
On Sunday, he's off to San Francisco for the San Francisco Ballet Summer Intensive. That seems sort of weird and like a mute point, especially since they know he's accepted something else but he's still on the so-called "watch list" for the trainee program. Whatever. He's supposed to talk to them when it's over…find out how interested they might be later on. It's good to get seen by as many companies as possible. You never know when you might need an audition in the future.
And me…well…I'm stuffing my emotions for now. I'm excited for him and very sad for me to have him go so far away–and where I can't see him dance. He'll be there dancing professionally, and I'll be unable to see but a few performances a year, if I'm lucky. I need to schedule all sorts of things for work–talks related to my book, and I'm afraid when he gets some big role, I won't be able to get to Germany time wise or money wise. And I'm just enormously sad to see my 18 year old go so far away from home for so long. Eleven months. That's a long time. So I just have to cough up the money to get there–whether or not my husband keep traveling to Germany or not.
Am I ready? Not really. No. Probably a good thing his dad will be taking him over to Germany (like when he went to SAB). No crying mom hovering around as he takes his first job, right?
Is he ready? Who knows emotionally or developmentally. But I'm his mom; I am biased. He seems excited. From a dance perspective, the School of American Ballet says so. Willy Burmann also sent me a lovely text telling me "how wonderful" Julian looked on his last day in New York. That's high praise from a man who teaches so many principles and soloists. Peter Martins, while not interested in having him in his company said he was "a beautiful dancer" and that he "should be dancing." So, I suppose he is ready for a professional career.
Too late to go back now! He's entered the realm of professional.
Photo courtesy of nongpimmy