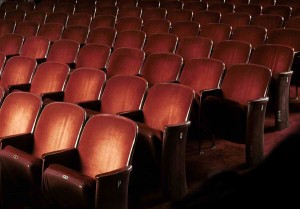 The big day arrived: The School of American Ballet (SAB) Workshop. The whole dance world, it seemed, was waiting for the school to reveal the next generation of dancers–especially New York City Ballet's (NYCB) dancers.
Supposedly representatives from all over the United States and Europe attend Workshop. In this economy, I'm not sure that still applies. And by the time Workshop happens, most of the students have already landed jobs–with the exception of a few who are waiting to be told if they will become NYCB apprentices. So, if those reps come, they are more likely looking at next year's possible recruits, at least with a few exceptions. Those few are waiting on pins and needles to find out if they have, indeed, een chosen as NYCB apprentices; if they aren't chosen, despite the fact that they might be the most talented in the "graduating class," they will be the only ones left without jobs. Why? Because Peter Martins, artistic director for NYCB, presumes to wait longer than any other artistic director to decide who he will hire from his school. This not only leaves a few of his best dancers out in the cold–some faced with going to college despite the fact that they might actually have a promising career as a ballet dancer ahead of them–but also leaves a few companies waiting on his decision.
For example, Kansas City Ballet  made an offer to a possible NYCB apprentice who had the chutzpah to ask the artistic director of that company to wait for Martins' decision before she made her decision; she, therefore, will have a job one way or another. The others…not so brave. Or maybe they didn't bother to audition elsewhere, or maybe they didn't receive any other offers (so they couldn't turn them down).
An indication of who might actually get an apprentice position comes first when students get an offer from another company. As mentioned in an earlier post, word then goes back to Martins, who indicates if they should accept it or not. If not, that means they are being considered for an apprentice position. The second indication comes when the Mae L. Wien Awards are given out right before Workshop and then announced on the night of the donor performance (the last one that costs $100 per ticket for those just going to the performance and $1000 and up for those going to the gala afterward as well as to the performance). At least six students become apprentices; four get Wien awards, from what I know.
The final performance is followed, as I said, by a gala. So attending even the performance is fun. People come all dressed up, and many of them are NYCB donors. Some NYCB dancers come as well. You can watch the people in beautiful dresses–some even in gowns. The kids dress up as well; some of them work as ushers. They go to the gala as well.
Workshop consisted of three pieces: Twinkliana, Les Petits Riens and Cortege Hongrois. If you recall, I had announced that Julian had landed first cast for Les Petits Riens, and was excited to perform in it twice. Well, a few weeks prior to Workshop, despite Jock Soto and Darci Kistler choice of casts–and confidence in Julian–Peter Martins changed the casting and Julian lost his spot in the final performance on June 5, the BIG one when the New York Times reports on the performance and the reps from companies come, etc. He was replaced by a boy on the list of possible apprentices. Politics. (I guess that's something they all must learn to live with.)
My husband and I watched all three performances. Yes, we threw down $2oo bucks to see Julian dance in one number on that BIG night when he "should" have had two chances to dance. He was awesome on Saturday in the matinee in both pieces. In particular, he was super in Petits, where he also had a solo. His partnering was solid and his solo was beautiful. He received many compliments from his teachers, and even Peter Martins told him it was the best he'd seen him dance the part. Julian did a super job every performance in his corps spot in Cortege. In the last performance he told us he just had fun and even challenged himself to do all the partnering one-handed simply because he knew he could. I hope someone noticed.
We saw a short piece in the New York Times yesterday. I'm wondering if anything else will be written up on Sunday. Of course, no one will mention Julian. He isn't a Wien Award winner, nor is he a new apprentice.
Who is an apprentice? Julian only seems sure of a few. The kids simply do not talk about it. They don't talk about the jobs they have accepted because some of them have taken jobs they aren't happy about. It can be a sore point. So, no one discusses it. All the Wien Award winners got apprentice spots: Olivia Boisson, Harrison Coll, Silas Farley, and Claire Von Enck. But there are at least two more kids, and we aren't sure who they are. Strange…You'd think everyone would know and be talking about it.
Anyway, it was great to see Julian dance. I must say that Ron and I were a bit peeved that Julian didn't get to dance in the spot given to him…but then we are his parents. We can be angry for him (not that he wasn't). We watched. We thought he look like a professional dancer–ready to go off to and start his career. Solid. Confident. Polished.
He did have one SAB mom single him out and go around to all the "important people" at SAB (minus Martins) and tell them Julian was the only one who danced in a masculine manner. So, I'll take that.
It doesn't get him that job at NYCB he wanted. But maybe one day…long shot that it may be. In the meantime, I think any company should be happy to get him. He'll just have to go out and show Martins what he missed out on. And as Soto said today in the class we watched, he"ll have to go out and become a famous principle dancer and make him proud.