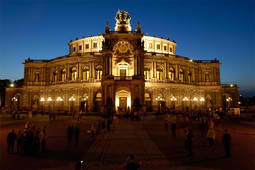 Julian's long audition process, filled with excitement, disappointment, stress, and happiness, has come to an end. And with its conclusion, he transitions from ballet student to professional dancer. Sort of…
After receiving four other job offers, and (I'm assuming) still being on the so-called "watch list" for a trainee position during the upcoming San Francisco Ballet's Summer Intensive (which he obviously won't be able to accept), my son has accepted an apprentice position with Semperoper Ballett in Dresden, Germany. Yes, Germany.
Why Germany and what were the other companies? Ah…well…all in due time. Let me start by saying that my son has big dreams, which is a good thing if you want to be a professional dancer. He always says, "I want to be the best and dance for the best," but he doesn't say this with a big ego. In fact, he didn't want to work for one of the smaller companies that offered him a position and already had large roles picked out for him because the artistic director had seen him perform. He wanted to work his way up from the bottom in a larger company—pay his dues, so to speak. So, when he realized he wasn't going to dance with New York City Ballet, and San Francisco Ballet wasn't an option because they couldn't decide fast enough, he went with the offer that provided him with the largest, most prestigious company he could find—and where he could dance a lot.
Mind you, he could have danced a lot at Kansas City Ballet, where he was offered an apprentice spot as well. They called him early in the audition process, but he missed the call. The artistic director knew him from Regional Dance America, where he'd seen him dance—and liked him well enough to pass his name along to Twyla Tharp, whom he worked with for many years. Unfortunately, Julian missed the call and the spot was given to another dancer. However, later, when a dancer turned down a KCB contract, Julian got another call and another offer. KCB became his top choice…until Dresden showed up at the School of American Ballet.
The artistic director took one look at Julian in class (no formal audition was held), and he knew Julian had contemporary ballet training. (Yep…two full years and those two summers at Complexions!) This was attractive to him because Semperoper Ballett has a varied rep of classical, contemporary and Balanchine. (The rep was attractive to Julian, too.) He said he would have liked to offer Julian a corps spot, but he'd just given away his last one. All he had left was an apprentice spot. (I'll discuss the difference between some of these positions in another post.) Due to some financial issues related to the position, Semperoper Ballett actually misunderstood Julian's ability to accept the position; they gave away his apprentice spot to another boy. With much calling and emailing and explaining—and some creativity on their end—they managed to produce one more apprentice spot and to offer it (again) to him. He accepted.
All this time, KCB was kept waiting…while the position and the details were solidified. This was terribly difficult, since Julian did not want to lose this position. He'd been told several times KCB needed a decision. They'd been asked to wait twice beyond their deadline. And this was a good, sound job—good pay, good medical, roles waiting for Julian, an artistic director who had gone out of his way to call us—the parents—to discuss the job and who really believed in Julian and wanted to help him become a successful professional dancer and nurture his talent.
Plus…while all this was going on, the School of American Ballet went out of its way to help Julian pursue a job with a large, prestigious company. (This is something I just can't get over; he had five, possibly six job offers when some of the boys had just one, yet SAB—one person in particular—continued to help him as if he were a New York City Ballet apprentice who had not gotten promoted into the corps and needed a job.) He was helped to land a two-day audition at American Ballet Theatre. After two mornings spent in company class, (okay…I gotta brag…) he was told by the associate artistic director that they liked him and would have liked to discuss potential options with them, however, with a lot of contracts still out and things changing in the company, they weren't in a position to offer him a job now. "If that weren't the case," he said, "we'd be having a very different conversation." His name was put in the ABT database so he could be contacted if something changed and was specifically asked to come back and audition again. (Wowie…In the whole audition process, as his mom, I actually thought this was his largest accomplishment.)
So who else offered Julian a position? (Okay, I get to brag again!) He also had:
a corps position offer from Los Angeles Ballet
a  studio company position offer from Washington Ballet
an apprenticeship at Ballet San Jose
Of course, going to Europe was an enticement when it came to the Semperoper Ballett offer (not for me…), but more than that, Julian liked the company, the artistic director, and what the apprentice program had to offer him. I'll get into more detail in my next post, but for now suffice it to say that he will dance as much, if not more, than some of the corps members in the company (at least that's what a former SAB student who is now a Semperoper Ballett apprentice told him she gets to do). The artistic director seems to like the SAB/Balanchine dancers. He may or many not get to do the contemporary pieces, because they tend to have smaller casts, but he will get to be in most, if not all the classical and Balanchine numbers—and likely not as a walk on. He's hoping that since the artistic director wanted to give him a corps spot initially, he will, indeed, dance a lot—and learn a lot. Ballet companies in Europe have long seasons and are well-respected even here in the US, so he hopes when he decides to come "home" it will be easier to get into a large company than it might be if he were trying to do so from a smaller American company. Who knows, though; he might just like dancing in Europe. Time will tell.
If you want to see where he'll be dancing, check out this link: http://www.semperoper.de/en/haus.html Pretty nice venue, no?
I'll share more in my next posts—on the actual apprentice program in Dresden, on the difference between first company positions for male dancers, and on letting my son go off to Europe (sniff, sniff). And then, of course, I'll have posts soon about my trip to NYC to see the SAB Workshop on June 2 and 5, and later this summer on Julian's experience at SFB's summer intensive—his last ever (not sure if I should be sad or happy about that…).