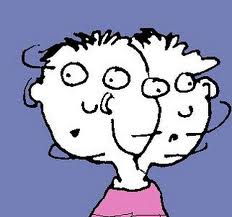 Today I'm going to write about our dancers and how they deal with life. I've written about Julian and his struggles in school, but a recent development has made me realize the issues he has had in school since he was quite young actually also are issues he has had in dealing with life in general.
We missed something HUGE, and other parents of really smart and really creative kids miss it, too. If it hadn't been for one of my blog readers, I still wouldn't realize the problem–and Julian would still be struggling and wondering why he is so stupid, lazy, bored, and irresponsible, which, of course he is not. He is the opposite of all of these things: He is extremely smart, driven and responsible, not to mention creative, talented and interested in many things.
So, ask yourself if your dancer:
Is easily distracted, misses details, forgets things, and frequently switches from one activity to another
Has difficulty maintaining focus on one task
Becomes bored with a task after only a few minutes unless doing something enjoyable
Has difficulty focusing attention on organizing and completing a task or learning something new or trouble completing or turning in homework assignments, often losing things (e.g., pencils, toys, assignments) needed to complete tasks or activities
Doesn't seem to listen when spoken to
Daydreams, becomes easily confused, and moves slowly
Has difficulty processing information as quickly and accurately as others
Struggles to follow instructions or doesn't always hear them
Has difficulty paying attention to details and tendency to make careless mistakes in school or other activities; producing work that is often messy and careless
Is easily distracted by irrelevant stimuli and frequently interrupting ongoing tasks to attend to trivial noises or events that are usually ignored by others
Has an inability to sustain attention on tasks or activities
Has difficulty finishing schoolwork or paperwork or performing tasks that require concentration
Frequently shifts from one uncompleted activity to another
procrastinates
Has disorganized work habits
Is forgetful in daily activities (for example, missing appointments, forgetting to bring lunch)
Fails to complete tasks such as homework or chores
frequently shifts in conversation or doesn't listening to others, doesn't keep his mind on conversations, and doesn't follow details or rules of activities in social situations
If you answered "yes" to even one fourth of these items, there is a high likelihood that your dancer has ADD or ADHD, or Attention Deficiet Disorder or Attention Deficit Hyperactivity Disorder. That's right.
And so does Julian. For all these years we have been punishing him, yelling at him, hounding him, struggling with him…OMG. We have been beside ourselves about why such a smart and creative kid just couldn't get his act together and get As in school, couldn't turn in his work, couldn't just do what it took to get his school work done. And this year, with just two darn classes, he has been almost flunking out of school.
Well. Well…one of my blog readers asked me if we had ever had him tested for ADD. She mentioned that her daughter had struggled in many of the same ways and been diagnosed with ADD in her junior year in high school. My mind started to whirl.
After I spent a whole day crying, totally distraught that I might have missed this in my child, feeling so guilty that despite my best efforts to be a good mother I might have been a terrible mother and just not seen the problem my child had (and angry–Why the hell hadn't the teachers seen it?), I did some research and discovered the symptoms above (and some more). I then sent them on to Julian. I told him I was making him an appointment the next week to see our family psychologist while he was home for spring break.
When she saw him, the psychologist said it was basically a no brainer. Of course, he had ADD. So, Julian went back to New York and immediately saw a psychiatric nurse practitioner, who also said it was obvious as all get out, and put him on some meds.
Okay…all you holistic people out there, I am also all for the natural route. But,  this kids needs help fast to graduate high school. Plus, there are no REAL studies that show that the holistic or natural route really does any good. We will try all that  along the way. Meds can actually, in some cases, retrain the brain, we were told. In two year, he might go off them and find he is better and doesn't need them any more. But right now, he really needs them.
For his sake, I'm not going to go into all the details of his particular symptoms. Let me just say, that if you think your child might have ADD or ADHD, please take them to see someone. Supposedly lots of creative people had or have it. And supposedly the smart and creative ones get by and don't always get noticed by the schools–who also don't want to diagnose it, because then they have to pay for the treatment. Nice, huh?
Put a kid like Julian, however, in a more stressful situation with out parental help and support, like at the School of American Ballet, and all doo doo hits the fan. With the need to perform, less school structure, his injury, being away from home, no one telling him what to do or helping with his disorganization or scheduling, all the auditioning, etc., his condition got aggravated. Schoolwork became way more difficult to focus upon, and many of the other symptoms he has got worse as well, such as difficulty falling asleep, focusing in class and turning off his thoughts. (Not that this is an excuse for not doing well in school, mind you.)
So, today's post is a warning to parents. Keep your eyes open. Don't miss ADD, or ADHD as they like to call all types of ADD and ADHD, in your dancer. I know you don't want to think your child has it, and you may not want to put them on medications (neither did I), but it's surely better to diagnose it than not to do so. And do it before you send your kids off to a year-round ballet program where it could get worse.
Plus, Julian was so very relieved to know that HE was not the problem. Now he knows he has a condition that makes it  hard for him to perform in school. It's not that he is bad. He has a learning disability. While that could be seen as a stigma, it surely is a better "label" than all those other ones he had that lowered his self-esteem. And I can assure you he felt pretty terrible about himself all the time because of his lack of performance in school–and at life in general. Not to mention that he has some trouble focusing in dance class, too, and now he knows why.
Please, please. Go back to the list above. Read through it again. Ask your child some questions. Check out this basic site on line and then do research on your own:
Symptoms of ADHD/ADD (Attention Deficit Hyperactivity Disorder)
Then take your dancer to a psychologist or counselor of some type if you have any doubts at all. You won't be sorry.