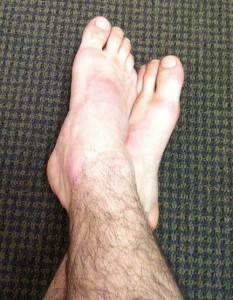 Julian showed up at home for the winter holiday break with a serious enough case of tendonitis in his feet that he hadn't danced in two weeks. (He said that was the longest break he'd had from dance in about three years, by the way.)  The School of American Ballet (SAB) sent him to see an orthopedic specialist in New York who  told him he had to sit out of class, get an MRI of his feet and go to physical therapy (PT) while he was at home. The MRI was more of a precaution and to give the doc a good picture of waht was going on internally with the structure of his feet in general.
We examined Julian's feet when he got home. His arches were all swollen as were his ankles. He had big knots on the tendons in places and when he moved his feet the crunched. Yuck!
I, of course, was all over him about not taking care of himself. He'd hurt his ankle back in October just before we came to see him in the the SAB Student Choreographic Institute. He had never gone to see the chiropractor for an adjustment. He insists the PT person at SAB adjusts his heels and ankles for him. According to Julian, he hurt both his ankles doing something or other a while ago, and that's when the problem really started. Of course, he didn't stop dancing. What serious dancer would, right? Not when you want to get noticed by Peter Martins, who has been teaching Saturday classes quite often.
Anyway, the first night we had him soak his feet in warm water and Epson Salts. Then it began…the many trips to all the specialists we know in my attempt to give him the care I couldn't provide for him in NYC–my attempt to cure his tendonitis. First, he went off to see Royal Jacobs, a local massage therapist who created a therapy called Releasology, which is based on acupressure. (Julian hopes to also learn this and may be get certified by Royal…) He has had two appointments and will have a third before he leaves. Two days later, the swelling was down and the pain was almost gone.
Second, he went off to see the PT in San Francisco…yes, we began our long drive to San Francisco and back again–can't say I missed that much…for a total of four visits. However, the doctor in NY, a Dr. Hamilton, recommended this particular PT facility, Active Care, because they treat the dancers from San Francisco Ballet. And actually, they were super. They told Julian he could begin dancing again–small jumps only at first and then whatever didn't hurt–and put his feet to work. They said his arches were not strong enough (What about those doming exercises I've written about? Mom's don't know squat…or at least don't get listened to.), nor were some other parts of his feet; strengthening exercises were prescribed to help him stop from falling in on his arches as he dances–something he says is quite common among dancers. On the last day, an ex-ballerina-now-physical-therapist actually worked with him at the barre and showed him what to focus on to use his feet correctly.
Here's what he learned from her: The correction really comes down to concentrating while dancing upon not falling in on his arches. "In releve," he said, "when rolling down, dancers have to  maintain turn out, but in an attempt to do so a lot of times they push forward toward the inside of the ankle and over stretch the tendons and ligaments on the inside of the ankle. Instead they need to think about lifting the arch while rotating from the top of the hip and inner thigh, and focus on maintaining the correct tracking of the ankle so the weigh is mostly over the second and third toe."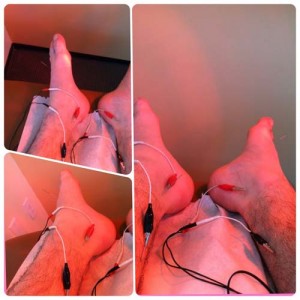 After that first PT appointment, the next day Julian had one of two appointments with one of our two acupuncturists. Dr. He, who specializes in sports medicine and treats some dancers as well. He treated him, and said he didn't feel the injury was too severe. (As I write this, Julian is in his office and shared this collage of photos to show the treatment he received. Dr. He tends to use electrical stimulation on the needles and to leave the needles in using tape so the treatment lasts longer. That means you get a more healing effect. The first time the needles only remained in for a few hours because Julian had to go to his MRI appointment. We didn't think it would be a good idea to have the needles flying around in the MRI machine. LOL.
The second acupuncturist, our magician, is Dr. Wu.  I've written about how he cured Julian of all sorts of things, such as tendonitis in the hip, with just two sessions. He had only one session available. He put needles in Julian's head and hands and made him do releves and other movements with his legs and feet (which he hadn't been doing for two weeks on doctor's orders but had just been given the go ahead to do by PT two days earlier) for something like 35 minutes. He got an additional needle in the arm, and "danced" for another 10-15 minutes. Amazingly, this helped. At first the needles hurt each time he moved his feet. The more he moved the more they hurt, but as he kept it up, the needles and his feet stopped hurting.
Oh, he also went to the chiropractor twice. Our regular chiropractor, Dr. David Renbarger, is the best!
By the end of the first week home, Julian had taken one open class at his old studio, City Ballet School, and his feet felt better and looked better—less crunching, smaller bumps on the tendons, and much less swelling.
As I said, he had a total of four PT sessions, three acupuncture visits, and two Releasology sessions (one more this coming weekend), and he was feeling little to no pain–plus his feet were looking better. The MRI results said there was a slight tear, but we'll see what Dr. Hamilton says about that. Our doc here didn't say a word. That probably isn't much different than a sprain–or so I hope.
Now, Julian did go to three dance classes…hopefully without negative consequences. PT said he could. He said nothing hurt. He wanted to take several classes with his old teacher, Yuri Zhukov, and did one day, but ended up taking two this last week with Yuri Possokhov, San Francisco Ballet's choreographer in residence (although they didn't have a bio and The Joffrey did; go figure). We were told by someone once that being at City Ballet would be worth it if Julian go to take class with Possokhov for even 15 minutes. In the last year and half he's taken class with him several times. This week it was super; Possokhov actually corrected him on the way he was using his feet and told him to pull up on his arches. He noticed what Julian was doing, basically, that causes the tendonitis. Kudos to you, Mr. Possokhov! Why has no one at SAB noticed this? Indeed, I'm told Julian has not been corrected on this particular technique issue–one with physical consequences, no less.
So, my conclusion, based on the fact that he has pretty much no pain and the swelling, bumps, and crunchiness have all been reduced considerably, is that we have almost cured his tendonitis in two weeks–well, make it four with the two weeks off. Now he'll have five days off before he starts back up at SAB, so that's a plus for the continuing healing process. I'm going to give him a tennis ball and tell him top dome, dome, dome in the meantime.
My other conclusion: SAB is darn tough on a boy's body. Julian's best friend danced hardly at all for two months (or more) because of a back injury. I've heard tell of boys who broke their backs…(and did dance again). I've seen several boys sitting out when I was there due to injury. And the new boys to the Advanced Men's division take not only the Advanced Men's classes but also the Intermediate Men's classes that first year. That's a heck of  a lot of jumping and turning and general wear and tear on the bones, joints, tendons, and ligaments. No wonder they end up with over use injuries, let alone fractures in the bones and tears in the muscles and ligaments of their backs and feet. I can't wait until next year when Julian only has to take the Advanced Men's classes.
Happy New Year everyone!
Oh… and please, please do go vote for this blog here: http://danceadvantage.net/2011/12/27/vote-top-blogs-2011/ I sorely need the votes. At this rate, I will not even come in second this year in the Best Dance Blog Contest. So, if you love this blog and find it helpful, please show your support. Go vote, and tell all your dancing friends to vote. Share the link on Facebook and Twitter and Google+ and tell them to click on My Son Can Dance and then hit "vote." Thanks so much.