Better late than never…and not glitch free yet. You can purchase and download my newest product at Smashwords, A Summer Dance Intensive Handbook, in any e-reader format (but the formatting is not yet perfect). Just click on the link: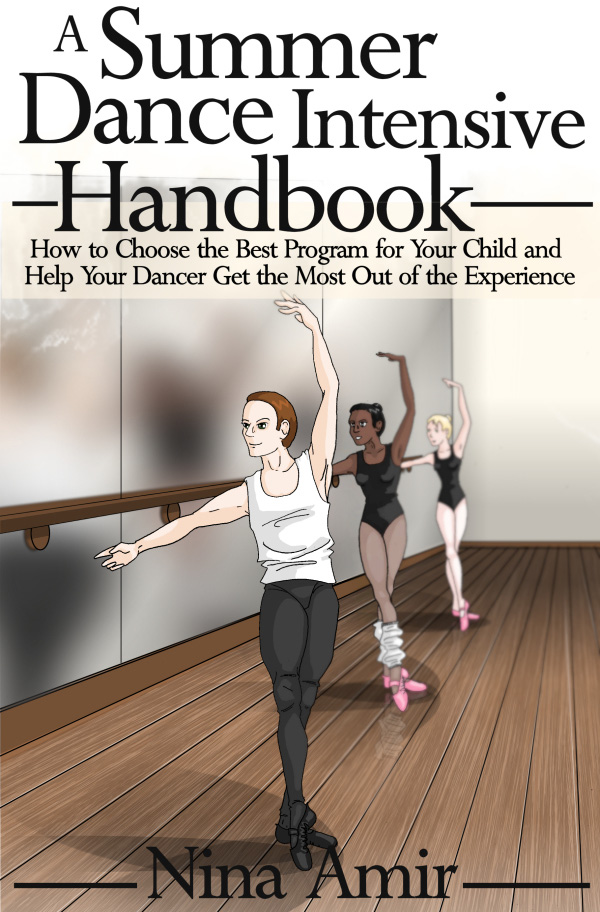 The Summer Dance Intensive Handbook
How to Choose the Best Program for Your Child and Help Your Dancer Get the Most Out of the Experience
I uploaded it and made it available in a hurry when my formatter was still out of town…all of June. Ack. She'll fix the formatting in July…way too late for most of you to really benefit from all the great info in this guide. But the info is there, and you can read it. You might still find something useful for this summer, especially if you are attending a local intensive or off to ABT. And there are lots of tips on how to get the most out of an intensive, so…you'll find it useful no matter what.
Here's the description of A Summer Dance Intensive Handbook: Thousands of girls and boys attend summer dance intensives every year. Choosing the right one and preparing for it can prove a stressful experience — until the creation of this handbook. Prepared by the mother of a male dancer who has "been there and done that," including chaperoning her son in New York City during the prestigious American Ballet Theatre summer ballet intensive, this handbook offers practical advice for parents and dancers so they make the right choice, prepare appropriately, conduct themselves well, stay healthy, and learn as much as possible while enjoying themselves as well. You won't want to choose a summer intensive or send a dancer off for to a program without it.
The cost is $9.99.
If you read the handbook and like it, please leave a review at Smashwords. That will help more dancers and parents of dancers find the ebook. It will be loaded up at Amazon for Kindle in July! Hopefully next year the handbook will help lots of dancers and parents. Sorry for the late upload….too much going on at this end.
Julian leaves for School of American Ballet on Saturday. I leave for a conference on Sunday. His Dad leaves for work in Germany on Saturday just three hours after seeing Julian off. Life is crazy.