The kids were off yesterday for the Fourth of July. Good think because it got hot, and it is going to stay hot until Thursday or Friday. Really hot–98 or 100 and humid. Yuck.
If your son is dancing somewhere where it's hot this summer, remind him to hydrate well. Water is great, of course, and he should drink lots of it, but he will also need something to replenish all the electrolytes he's losing. One Gatorade isn't going to do it. I was told that you have to start drinking these sorts of drinks every day for your body to really absorb what they have to offer. Despite the sugar in them, I let Julian have one huge Gatorade every day (if not more). Today I told him to purchase a second one at lunch or I'll get him another one the way home from ABT.
If you recall, last year Julian had a bad case of dehydration for two days because he left his water bottle outside the classroom. Don't let your son make that mistake. That same night he took an extra tap class; that was the last straw. He sweated up a storm in there and then didn't drink enough afterward.
Also, makes sure dancers take their breaks in airconditioned areas. I suggested Julian eat lunch in the studio today rather than go out. He told me the restaurants are cooler; the studios tend to be hot. So, suggest your dancer find the coldest place possible to have lunch or take breaks so his or her body gets a chance to cool off.
Of course, cold towels on the neck work well, as does running the wrists under cold water. Ice cubes rubbed up and down the neck and wrists can help cool the body as well.
This week we are taking it easy until Thursday when Julian has a tap class with Jason Samuels Smith. (He was supposed to go on Tuesday, too, but his schedule doesn't allow–probably a good thing. If you are in NYC and interested, it's a four-class series beginning today 7/6. You can register at divinerhythmnyc@gmail.com.) He'll make up for lost time on Saturday when he goes to Broadway Dance Center and Steps on Broadway for some extra classes. (More on the classes Julian has been taking in my next post.)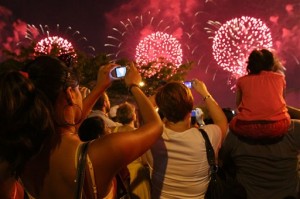 By the way, a small group of dancers went with me down to Pier 54 to watch the six barges on the Hudson shoot off fireworks. It was a huge crowd there (but not as bad as on the Henry Hudson Parkway last year), but they had a blast singing, playing games, taking pictures of each other, and generally amusing (or annoying) all the people around them. They then came back to our apartment, and ate pizza and watched ballet videos until about 2:30 or 3 a.m.
Julian turns 16 this week. We'll have to do something fun on Wednesday….
(Photo caption: Spectators watch the Macy's Fourth of July Fireworks display over the Hudson River Sunday July 4, 2010 in New York. AP Photo/Tina Fineberg)