For ages I've been asking my fellow dance blogger Nichelle Strzepek to write a guest post for me. She finally complied and wrote something absolutely perfect!
Since Julian is already 16, I tend not to think about the younger boys. Nichelle, on the other hand, has a three-year-old son she is just thinking of starting in dance classes. She, therefore, decided to write about giving a young boy his start in the dance world. And who better to write about this but a dancer, dance teacher and mother.
Choosing A Dance Program For My Preschool-Aged Son
By Nichelle Strzepek
My son is about to turn three, and as a dancer and dance teacher I've been doing some searching for a dance class for him in the Houston area (where we live). Of course, I have some ideas about what I am looking for.
I am fortunate to be involved in the dance community here, but finding a great preschool dance program is not as easy as picking up the yellow pages (does anyone do that anymore?) or searching Google. Particularly when searching for a young boy, it is not even as easy as asking your mommy friends.
Oh, my mom pals have dancers in the household. They tell me how much they and their daughters love "Miss Suzie's Dance Expressions" where they dress up in tutus each week, twirl around with magic wands, and practice princess walks.
Evaluating the options
Right now, my investigation is focused specifically on the preschool program at a dance school. In the back of my mind is the prospect I may be looking for a place in which he might continue his study; however, starting him off on the right foot means addressing what his needs are now, not necessarily what they'll be when he is nine or thirteen (sometimes you can find it all in one place, sometimes not). Should he decide dance is something he'll continue, we can always reevaluate the options depending on his level of interest.
As a dance teacher, dancer and mom, these are three things I am looking for:
1. A program that teaches creative movement principles
Why? Because it is playful education.
Creative movement is an actual discipline like ballet or tap. It often gets mislabeled in dance institutions, but creative dance is not simply a series of pretending games or free dancing to music. It is a systematic and thoughtful curriculum that involves the guided exploration of concepts, the building blocks of movement, as well as structured improvisation.  I want to emphasize again these words: guided, systematic, thoughtful, and structured… like any good school, actually.
A class might be described as facilitated rather than taught because the class leader is providing opportunities for children (or someone of any age) to discover and experiment with dance skills (the 'primary colors' of ballet and dance technique) and concepts like tempo, movement quality, spatial organization or relationships, and emotion.
Heady stuff for a preschooler, right? But no! When done right, it is exactly like playing. Babies decipher their world through investigation. They explore shapes, sizes, textures, patterns, and other foundations of higher level thinking, through play. We all do, really. It is the best way for your preschooler to learn.
Because it addresses a boy's particular need to really move.
I have taught creative dance to young boys and girls and, as you know, boys in general just love to move. They are active and like going to extremes.  Boys flourish in creative movement because wide ranges of skills are addressed. Dancers move slow AND fast, light AND strong, smooth AND sharp. It turns upside-down what most, even by the age of three, think about dance: that it is only ever graceful or elegant or pretty. When these little guys experience that dance is also powerful, exuberant, and even funny or sinister I see the wheels turning: "This is dance? Cool!"
Because it will prepare him for all the places he'll go.
Parents seek out dance instruction for their kids for a variety of reasons but these usually fit along a scale between preparation for a future career and "just" a fun or artsy activity or pastime.
I cannot think of a better gift to give my son than a window of opportunity that is off the scale.
A playful and powerful learning experience that will engage his mind and body,while also preparing him for social interaction and schooling (turn-taking, patience, self-expression, critical thinking and problem solving).
An activity that empowers him to move athletically and innovatively at the same time.
And should he want to continue in his movement and dance education or career, a solid foundation - like an empirical sense of good technique, self-regulation and motivation, curiosity, and a love for moving – to be built upon.
For something like that, I'd be willing to drive a little further or pay a little more, frankly.
2. A school without pink walls
I've talked about this on my dance blog, and I know this has been mentioned before in the comments here on My Son Can Dance as a somewhat minor requirement when seeking out dance schools. This is high on my list for a reason, though.
I am using "pink walls" as a bit of a catch-all. A studio's pink walls equivalent might be princess themes or anything that unnecessarily genderizes dance. Pink is a fine color and for the moment, pink is actually among my son's favorite colors. However, a school that is "painting their walls pink" is either hoping to appeal to only one demographic or it has never really crossed their mind that a boy might enter the establishment as a student. Either way, it is reason enough for me to look elsewhere.
It may seem like a small thing but, for boys and young men, no pink walls can make all the difference. It is about feeling welcome and comfortable in an environment.
3. A school with a teacher who has experience or specializes in working with the youngest of our movers
Preschool classes are the most demanding to teach. It requires patience, a keen sense of child development, an agility of the mind and spirit that usually grows out of experience. Great dancers are not always great educators (and visa versa).
The quote, "Good teaching is one-fourth preparation and three-fourths pure theatre," is funny and often true, but in preschool classes preparation is extremely necessary. First-year teachers should have a few years of assistantship or teacher training under their belt, allowing them to maintain control and keep children engaged.
In the back of my mind
As I said before there are a few things that, with an eye to the future, I'll keep in mind as I search for a quality program.
A school whose older dancers move in a coordinated, pleasing fashion

A school that has sent boys through their doors in the past or has boys currently enrolled at varying levels

A school that has at least one male dancer on staff or encourages workshops or master classes with male teachers
My own experiences lead me to believe that movement is a spectacular way to address the whole child. Physical, mental, behavioral, and creative education, all wrapped up in a neat little package called dance. I want that for my son whether or not he is interested in ever taking dance again after this initial exposure. In fact, should I be blessed with a girl down the line… my list will be the same.
About the Author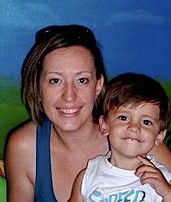 Nichelle Strzepek spent over 16 years as a dance instructor, teaching ballet, jazz, modern, tap, creative dance, and theatrical dance in private studios, community programs, and at a public university. Her students, ranging in age from 3-63, have included beginners as well as advanced movers. Since the birth of her son in 2007, she has funneled
her enthusiasm for dance training and education into her role as creator, writer, and editor of DanceAdvantage.net. Nichelle continues to perform and pens articles and reviews covering the dance scene in Houston, Texas where she resides with her family.